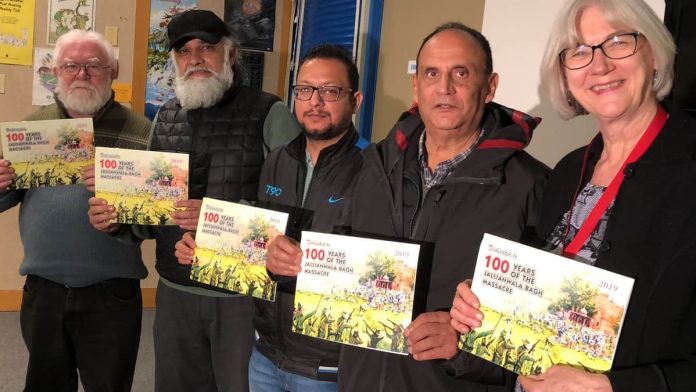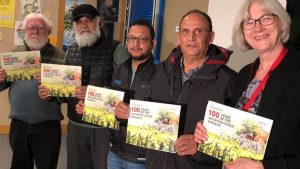 INDIANS Abroad for Pluralist India (IAPI) in partnership with Radical Desi and People's Voice released a calendar dedicated to 100 years of the Jallianwala Bagh massacre in Delta on Sunday, December 16.
Hundreds of people were killed when troops opened fire in British India on peaceful demonstrators who had assembled at Jallianwala Public Park in Amritsar on April 13, 1919, to protest against repressive laws. Official British sources said 379 were killed and about 1,100 wounded.The Indian National Congress said about 1,000 were killed and more than 1,500 injured, according to Wikipedia. The killings galvanized the freedom movement that culminated in India's independence in 1947.
BC Minister for Labour Harry Bains, MLA Rachna Singh and a prominent story writer Harpreet Sekha were among those who attended the event.
The 2019 calendar unveiled by former BC Federation of Labour Leader Irene Lanzinger, People's Voice Editor Kimball Cariou and IAPI members Parshotam Dosanjh, Navtej Johal and Rakesh Kumar isn't just a tribute to the victims of Jallianwala Bagh massacre, but an attempt to connect the past with the present. It marks many important days that witnessed brutal state repression in the post British India. The calendar takes into account the Indian Army attack on the Golden Temple complex, the holiest shrine of the Sikhs, in 1984. Incidentally, the place is located next to Jallianwala Bagh in Amritsar. Likewise, it also gives information about the repression of landless tillers in Naxalbari that sparked a communist revolution all across India during late 1960s and ongoing state brutality on people of Kashmir and Manipur fighting for the right to self-determination.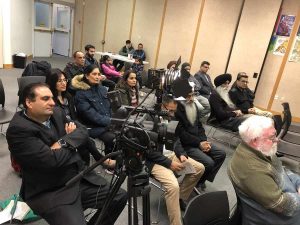 The calendar also bears important dates when marginalized sections, such as Adivasis or indigenous peoples and Dalits or so-called untouchables were subjected to state violence. Running into 12 pages, the calendar goes on to cover similar episodes happening in other parts of the world, such as Pakistan, Sri Lanka, Palestine and even Canada where indigenous peoples continue to fight against neo-colonialism.
Earlier, Lanzinger was presented with Radical Desi medal of courage for raising her voice for disabled Delhi University Professor G.N. Saibaba who is being incarcerated by the Indian state for standing up for poor and marginalized. Apart from Saibaba, some other social justice activists who continue to fight against repression in different parts of the world or have laid down their lives have been recognized in the calendar.
Those who spoke on the occasion included Bains, MLA Singh, Irelene Lanzinger, Kimball Cariou, Sikh activist Barjinder Singh and Muslim activist Sayed Wajaht, besides independent human rights activist Shabnam Joshi. The IAPI members Rakesh Kumar and Gurpreet Singh also spoke at the event.
(Article and photos submitted)