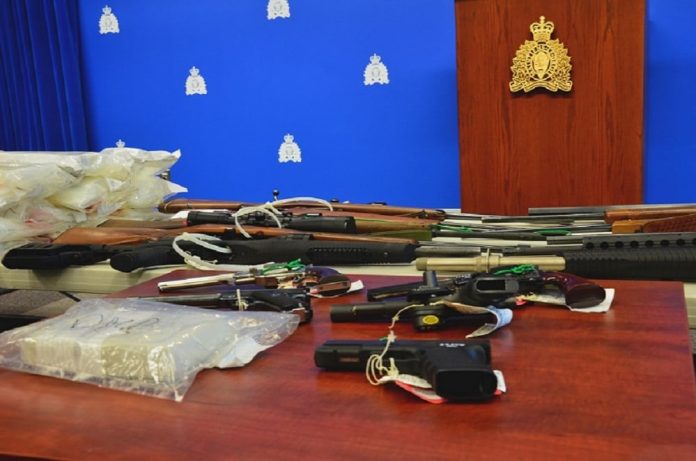 A British Columbia man is facing 11 charges relating to the importation and trafficking of illegal narcotics as a result of a cross-border investigation conducted by the RCMP, U.S. Immigration and Customs Enforcement's Homeland Security Investigations (HSI), U.S. Customs and Border Protection, the U.S. Coast Guard and Victoria City Police as part of Operation Shiprider.
William Milton Barnes, from Saanich, is alleged to have imported and trafficked cocaine, crystal methamphetamine and heroin from the United States in a scheme that involved transactions by boat on the open water in British Columbia and Washington State.
"As part of our investigation we were able to utilize Canadian and American resources to monitor the transportation of illegal drugs across the border and identify and arrest those that were responsible," said Chief Superintendent Keith Finn, Deputy Criminal Operations Officer, Federal Policing. "By having a program like Shiprider in place, the RCMP and our American law enforcement partners are able to identify and disrupt cross-border illegal activity that takes place on the ocean, and hold those that wish to hide behind international borders accountable."
In total, over 55 kilograms of cocaine, over 47 kilograms of crystal methamphetamine, over one kilogram of heroin, 15 firearms, including five hand guns, a prohibited large capacity magazine, over $150,000 in cash and two high speed vessels were seized.
"Collaboration is the foundation of the Shiprider program, and this investigation is testament to that. The teamwork exhibited by Shiprider's U.S. and Canadian law enforcement partners ensures that our borders don't serve as conduits for smuggling and trafficking activities," said HSI Seattle Special Agent in Charge Brad Bench.
Barnes has officially been charged with importation cocaine; possession for the purpose of trafficking cocaine; importation of crystal meth; possession for the purpose of trafficking crystal meth; importation of heroin; possession for the purpose of trafficking heroin; possession of a handgun with readily accessible ammunition; two counts of possession of a prohibited device (large capacity magazines); possession of proceeds for backpack of $150,000; and smuggling under section 159 of the Customs Act.
"Maritime security is vital to the United States and Canada," said Lt. Cmdr. Blair Sweigart, Chief of Enforcement for U.S. Coast Guard Sector Puget Sound. "With our shared maritime border, strong cooperation and coordination is imperative to maintaining national security. The global maritime system is vital to both nations' interests and security, and together, we benefit from an integrated, joint approach to maritime law enforcement. The Shiprider program, with reciprocal cross-border law enforcement authorities, represents a unique partnership that helps create a more secure maritime environment for both nations, and strengthens our mutually beneficial relationship."
Canada-U.S. Shiprider, officially known as Integrated Cross-border Maritime Law Enforcement Operations (ICMLEO), represents a cooperative approach to combating cross-border crime on Canada and U.S. shared waterways.
Canada-U.S. Shiprider involves vessels jointly crewed by specially trained and designated Canadian and U.S. law enforcement officers who are authorized to enforce the law on both sides of the international boundary line. Working together, armed Canadian and U.S. law enforcement officers are able to transit back and forth across the border to help secure it from threats to national security, as well as prevent cross-border smuggling and trafficking.