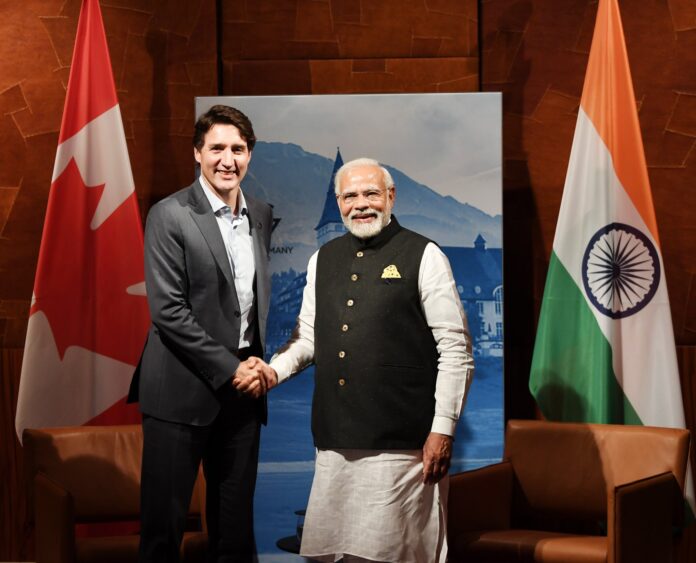 AS the Canadian government prepares to reveal its long-awaited Indo-Pacific strategy, a new report underscores the importance for Canada of strengthening economic ties with India.
"India represents a vital door to the future in global trade," says the report, released on Thursday by the Business Council of Canada and the Canada-India Business Council.
The report calls for the completion of a comprehensive economic partnership agreement to help Canada unlock opportunities in the world's fastest-growing large economy. According to analysis by Ciuriak Consulting (commissioned by both organizations), an ambitious trade deal would increase two-way trade by C$8.8-billion a year. By 2035, the potential boost to Canada's economy would be even greater than the Comprehensive and Progressive Agreement for Trans-Pacific Partnership, a deal which has succeeded in advancing Canadian trade ties with 10 other countries.
"Simply put, there is no path to a successful Indo-Pacific strategy without going through India," says Business Council of Canada President and CEO Goldy Hyder. "Despite the challenges Canada and other countries have faced in past trade negotiations, the Indian government has signaled a new openness to trade. Canada should move quickly to become one of the first advanced economies to secure a comprehensive trade and investment agreement."
The report also examines Canada's relative underperformance in the Indian market over the past 20 years, losing market share to competitors during this period. It concludes with recommendations for advancing the bilateral relationship and case studies of four of the 600 Canadian businesses and organizations that benefit from operations in India.
"India is experiencing a massive economic surge and Canadian companies should have an actionable strategy to take advantage of this unique window of opportunity," says Canada-India Business Council President and CEO Victor Thomas. "Those with a presence in India are already reaping the benefits of the country's transformation. As Canada considers its economic future, strong trade and investment ties with the world's next economic superpower must be a central priority."
THE report notes: "India is roughly where China was two decades ago. Its economy is in the midst of an economic surge, powered by an explosion of consumer spending, a rapidly expanding middle class and massive investments in infrastructure and digitization.
"The future looks even brighter. Economic growth is expected to lift nearly a billion Indians out of poverty in the next five years. That will help propel India — currently the world's sixth largest economy — to No. 3 by 2030. With 1.4-billion consumers, India is the world's second most populous country. Its population is on course to overtake that of China by 2027, according to the United Nations. India is also home to 17 of the 20 fastest-growing cities in the world. Over the next three years, India is projected to be the world's fastest-growing large economy, with real GDP growth well above its peers in Asia, North America and Europe."
About the benefits of a free trade agreement, the report states: "The Canadian and Indian economies are, to a great extent, complementary. Canada needs what India has, including a rapidly growing population of middle-class consumers and a young, IT-literate workforce. In turn, India needs much of what we have: energy, technology, agri-food products, fertilizer, various other natural resources, investment capital, plus engineering and business know-how.
"Economic modelling by Ciuriak Consulting suggests that a free trade agreement with India would boost Canadian GDP by 0.16 per cent a year by 2035, assuming relatively modest tariff cuts by India. A more ambitious deal would yield an annual GDP boost of 0.25 per cent. For a Canadian family of four, that represents a gain of C$731 per year. To put this in context, it has the potential to deliver a greater economic boost to Canada than the 2018 Comprehensive and Progressive Agreement for Trans-Pacific Partnership (CPTPP), a deal which has succeeded in strengthening trade ties with 10 other countries in the Asia-Pacific."
The report also points out: "A free trade agreement alone won't miraculously open up opportunities for Canadian businesses. Canadian policymakers and businesses will need to get out of their comfort zone when it comes to India, and work hard to leverage the full benefits of closer economic ties and market-opening opportunities. That will mean putting capital at risk, investing in local talent, expanding trade facilitation support, and more.
"Several Canadian companies are already well established in India, demonstrating that it can be done.
"There is opportunity but also urgency in India. Canada's peers, including the U.K. and Australia, are moving aggressively to secure a trade advantage. Canada has a chance to be right there with them with a trade deal that, done right, could pay economic dividends for decades to come."