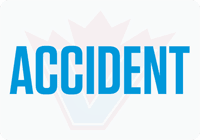 SURREY RCMP are investigating a two-vehicle collision that occurred in the South Surrey area at about 9 a.m.
On June 17, Surrey RCMP frontline officers responded to a report of a collision in the area of 148th Street and 30th Avenue involving a motorcycle and a car.  Early indications have investigators believing vehicles were travelling in the northbound lanes on 148th Street when the motorcycle collided into the back of a car and then a concrete barrier near the intersection at 30th Avenue. The driver and passenger were both thrown off the motorcycle.
The driver of the motorcycle was transported to hospital via air ambulance with serious life-threatening injuries while the passenger of the motorcycle was transported to hospital via ground ambulance with serious non-life-threatening injuries. The driver of the car was uninjured in the collision.
Surrey RCMP's Criminal Collision Investigation Team (CCIT) is now leading the investigation with continued assistance from Surrey frontline, Traffic Services and the Integrated Collision Analysis and Reconstructionist Service (ICARS).
The investigation is in the early stages and a cause is not known at this time. Investigators will be looking at all possible contributing factors in this collision.
Traffic on 148th Street between 28th Avenue and 30th Avenue will be closed for the foreseeable future as the investigation continues.
Anyone who may have witnessed the collision or has dash cam video, is asked to contact the Surrey RCMP at 604-599-0502 or report anonymously to Crime Stoppers at 1-800-222-TIPS or www.solvecrime.ca.