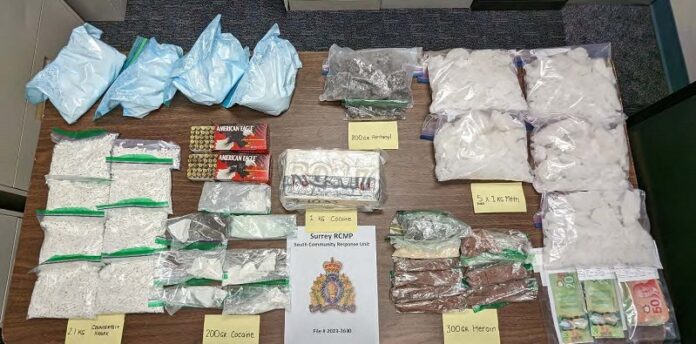 SURREY RCMP's investigation into a drug trafficking network culminated in a substantial seizure of drugs, including tens of thousands of potentially lethal doses of fentanyl.
Surrey RCMP South Community Response Unit (SCRU) started an investigation into drug trafficking in late 2022. The investigation led police to believe that a business was being used as a front for drug trafficking. Based on the information obtained through the investigation, SCRU obtain a search warrant.
On January 26, police executed a search warrant on the business located in the 5800-block of 176 Street. Four individuals were arrested for possession for the purposes of trafficking a controlled substance and later released pending further investigation.
Police located and seized the following:
* Suspected fake Xanax – 2.1 kilograms (estimate of 7,000 pills)
* Suspected cocaine – 1.2 kilograms (12,000 doses)
* Suspected heroin – 380 Grams (3800 doses)
* Suspected fentanyl – 800 grams (8,000 doses)
* Suspected meth – 5 kilograms (50,000 doses)
* Suspected GHB – 400 grams
* Cash – $4,200
Investigators are actively working to complete the processing of all seized exhibits and prepare a report to Crown counsel recommending charges.
"This drug seizure is significant as not only has it disrupted a drug trafficking network, there are now over 73,000 potentially fatal doses of fentanyl, cocaine, heroin and methamphetamine off our streets," said Staff-Sgt. Jag Saran, NCO/IC of SCRU. "We will continue to work alongside the property management company and City of Surrey Bylaws to address the issues pertaining to the business."