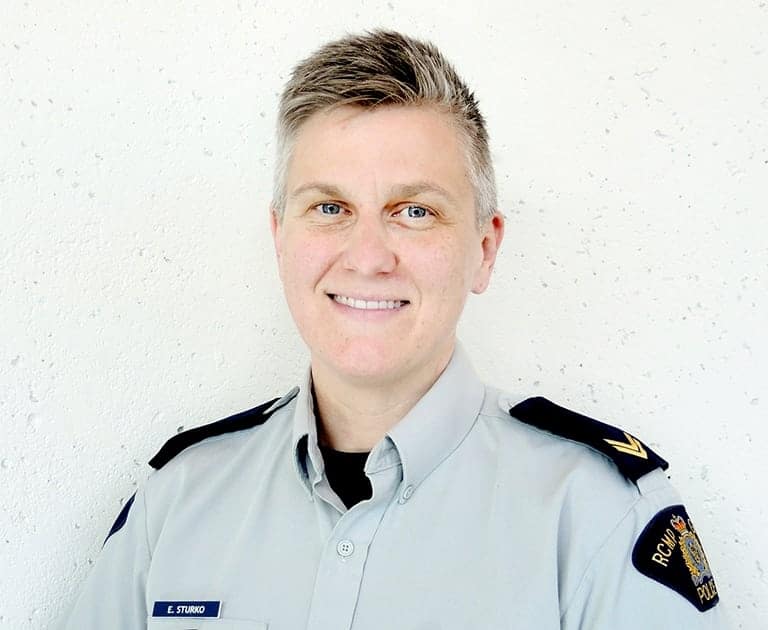 SURREY RCMP media relations officer Cpl. El Sturko on Monday sent the following letter saying that some of Kash Heed's information is inaccurate or misrepresented:
Re: Voice article: January 25, 2019 – Former Solicitor General Kash Heed: 'There is going to be a different coloured police uniform operating on the streets of Surrey'
I am reaching out to you on behalf of the Surrey RCMP after reading the above noted article from Friday, January 25, 2019.  I noted some inaccurate or misrepresented information which may be misleading for the community we serve.
As the Media Relations Officer for the Surrey RCMP I have a duty to ensure the public has correct information about our policing service. I also have a responsibility to the police officers who I speak on behalf of, to ensure they are being represented fairly and accurately.
We are requesting a correction on the 3 points noted below on your website and print newspaper:
Your article states a "significant increase" in the number of homicides in Surrey in 2018. While the number of homicides in Surrey did increase, we want to ensure the public is aware that the finite number of incidents increased by 3. To classify this as a "significant increase" is an overstatement.  It can also be noted that the 15 homicides experienced in Surrey last year is equal to the number experienced in the City of Vancouver in 2018.
Mr. Heed stated in your article that in Surrey there was an increase in crime over successive years and then a minor decrease in 2018. This statement is incorrect; crime has not increased for the past 3 years.  There have been decreases or no change in Violent Crime, Property Crime and total Criminal Code offences in 2016, 2017, 2018.  Surrey's Crime Severity Index (CSI) has also decreased and the most recent numbers show Surrey having a lower CSI than Vancouver. Additionally, there is no data or evidence to suggest that a municipal police agency can reduce crime more effectively than the RCMP. Surrey's crime statistics are publicly available on our website.
Additionally, in fairness to the public we serve it should also be clarified that the Surrey RCMP employs a very similar style of statistical analysis as Vancouver. Mr. Heed implied that we don't calculate our rising or falling crime rates based on multiple years of data. This is not true. Surrey RCMP collects statistical information and regularly reviews both recent and historic data to address crime trends and to obtain a clear picture of how crime is trending over the short and long term.
While the Surrey RCMP must remain impartial in the decision making process the City of Surrey is currently undertaking regarding their police force, we have an obligation to ensure the public has accurate information about our policing services. The Surrey RCMP remains committed to serving the community.