A recent search warrant executed by the Surrey RCMP Drug Unit at a residence in Whalley has resulted in a significant seizure of illegal drugs, more than $100,000 in cash, and a handgun and ammunition.
On August 20, as part of their proactive enforcement, the Surrey RCMP Drug Unit observed two individuals involved in suspicious activity consistent with drug trafficking outside a residence in the 9400-block of 129th Street. Both individuals were detained and found to be in possession of cash and street level drugs. The investigation continued and officers obtained a search warrant for the residence.
The search warrant was executed the same day, with support from the Surrey Gang Enforcement Team and frontline officers. The search resulted in seizure of the following:
– 225 grams of suspected cocaine
– 3.1 kilograms of suspected fentanyl
– 157 suspected oxycodone pills
– Over $100,000 cash
– one handgun and ammunition
– 20 kilograms of a raw cutting agent
– Drug brick press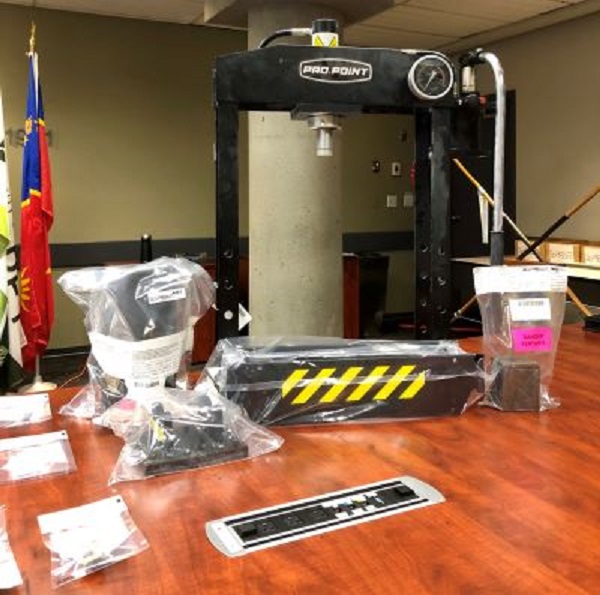 One suspect was released at the scene and another suspect was arrested during the execution of the search warrant. No charges have been laid at this time as the investigation is ongoing. One of the suspects involved is believed to be involved in the Lower Mainland Gang Conflict.
"This investigation has taken a significant amount of illicit drugs off the street," said Staff-Sgt. Ryan Element, acting Proactive Enforcement Officer. "Given the current opioid overdose crisis, these drugs could very likely have harmed or killed people in our community."
Anyone that has any information about the investigation is asked to contact Surrey RCMP at 604-599-0502 or, if they wish to make an anonymous report, contact Crime Stoppers at 1-800-222-8477 or www.solvecrime.ca.