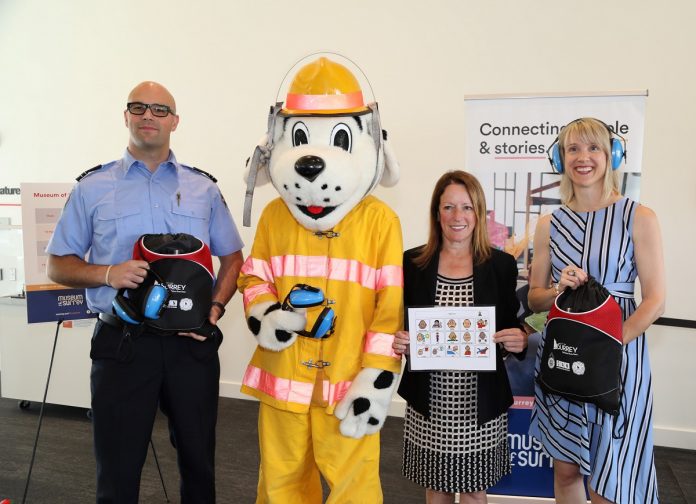 [responsivevoice_button voice="UK English Female" buttontext="Listen to Post"] 
– Museum of Surrey launches sensory friendly hours
– Surrey Fire Services reduces communication barriers with sensory kits
SURREY Councillor Allison Patton and staff from Museum of Surrey and Surrey Fire Service were joined on Tuesday by members of the community to announce two new sensory friendly initiatives.
In partnership with the Canucks Autism Network, Museum of Surrey will run sensory friendly hours from 10 a.m. to 12 noon on the first Sunday of every month, beginning in September.
Further advancing the City's leadership in accessibility, Surrey Fire Service has launched a first-of-its-kind sensory kit program to aid anyone with sensory processing needs during first responder or fire calls.
Sensory friendly hours at Museum of Surrey will offer guests of all ages the opportunity to experience the museum with reduced lighting and sound, a quiet room, as well as complimentary noise-cancelling headphones and other elements to support relaxation during their visit.
"The City of Surrey is committed to providing accessible and inclusive programs and services for all members of our community," said Patton. "Today's announcement ensures everyone can experience the magic of our museum. We thank the Canucks Autism Network and the Surrey Fire Fighters Charitable Society for their contributions in making our sensory friendly spaces possible."
The Canucks Autism Network notes that individuals with autism are seven times more likely to interact with first responders than other members of the general public. Recognizing that there are over 16,000 children and youth in B.C. diagnosed with autism, Surrey Fire Service's trained staff will now carry sensory kits on fire trucks to better serve the community. The kits include noise cancelling headphones, calming accessories and symbol cards, which will help first responders locate pain points on non-speaking children or adults, or for anyone who may be overwhelmed at any incident.
"As first responders, communication and trust with our patients is key to keeping them safe," said Ben Wilson, Prevention Captain, Surrey Fire Service. "When an accident or fire occurs, it can be overwhelming for everyone involved, particularly for those with autism or sensory processing disorders. We are very proud to launch this innovative program, which will ensure better service to all members of our community."
For more information on Museum of Surrey, visit: surrey.ca/museum
For more information on Surrey Fire Services, visit: surrey.ca/fireservice