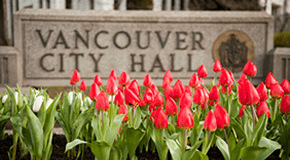 VANCOUVER City Council has voted that bear bangers and other exploding animal deterrents may no longer be sold or used within the city limits to protect the safety of residents in Vancouver and reduce unwelcome noise.
These regulations are in response to the increased inappropriate use of these devices within Vancouver and come into effect immediately, so anyone now selling or using these devices in Vancouver may be subject to a ticket carrying a fine of $1,000.
Vancouver residents who use bear bangers and other exploding animal deterrents in the wilderness outside of the City may continue to purchase them online or in neighbouring municipalities.
Upon direction from Council, staff will further consult with the appropriate stakeholders to consider a possible permitting system, for the sale of bear bangers to professionals who use them as part of their jobs.
In April 2020, the City began to receive an increase in complaints about explosive sounds heard throughout downtown and surrounding areas. In the first six months of the 2020, the City's 311 service logged 180 complaints and the Vancouver Police Department (VPD) reported over 360 calls. There is also evidence from the VPD that exploding animal deterrents have been modified for use as improvised explosive devices, posing a threat to public safety.
City staff consulted with a wide range of stakeholders as part of the development of these new regulations, including retailers, suppliers, industry associations, outdoor recreation clubs, conservation groups, The BC Conservation Officer Services and the B.C. Society for the Prevention of Cruelty towards Animals.
More Information
* Exploding animal deterrents such as bear bangers, air bangers and seal bombs are a hand-held, loud, exploding device used to deter wildlife in remote areas.
* The loud noise can keep animals from approaching, but also carry the risk of frightening wildlife toward the user, and are a potential fire hazard in dry conditions.
* Under the Federal Explosives Act, using exploding animal deterrents such as bear bangers for anything other than personal protection from wildlife is illegal.
* Parks Canada has banned the use of bear bangers in federal parks. They also recommend a protocol of alerting wildlife to human presence by travelling in groups and speaking loudly, singing or carrying a noise-making device like pebbles in a can, and carrying bear spray for close encounters
* BC Parks and the BC Conservation Officer Services recommend a bear deterrent protocol similar to Parks Canada, including using bear spray and other non-exploding deterrents.