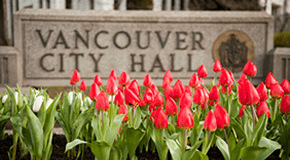 VANCOUVER is about to join the ranks of 100 other North American cities that have banned polystyrene foam cups and foam take-out containers. The city-wide ban is set to start January 1 and will restrict businesses from serving prepared food and drinks in foam cups and foam take-out containers. 
The City said it is committed to supporting businesses as they make the transition away from foam.  "We are doing this in a number of ways, including notification letters sent through our license renewal process, in-person outreach and business toolkits," it added.
Toolkits are available online or by mail to help businesses find reusable, recyclable or compostable alternatives that are convenient and affordable. The toolkits are available in English, Traditional Chinese, Simplified Chinese, Punjabi, Vietnamese and Filipino (Tagalog) at vancouver.ca/foam.
The business toolkits include:
· Packaging guidelines to help businesses find reusable, recyclable and compostable alternatives
· Information on compostable and degradable plastics and why they are not accepted in the City's residential Green Bin program or Recycle BC's residential recycling program)
· Questions for businesses to ask their supplier
· Posters and till toppers to help businesses notify customers and staff of the city-wide ban
Businesses can download or request printed toolkits by mail at vancouver.ca/foam
The foam ban is one of many actions the City is taking to reduce waste and litter from single-use items like foam take-out containers, plastic shopping bags, disposable cups, utensils and plastic straws. The foam ban was approved by Council on June 5, 2018. The start date of the ban was postponed from June 1, 2019, to January 1, 2020, to provide businesses with more time to find alternatives.
The foam ban does include penalties for businesses that are not in compliance; however, initial actions will focus on education, outreach and support for licence holders as they phase out foam.
"Thank you to all of the businesses who have gone foam-free and are taking steps of their own to reduce single-use items and litter in Vancouver," the City said.
For more information, visit vancouver.ca/foam