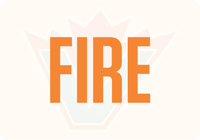 VANCOUVER firefighters were called to reports of a house fire at 743 Keefer Street on Wednesday at 4:29 a.m. Crews were met with heavy smoke and flames from a fully involved house under renovation.
Fire crews quickly set up defensive operations to prevent further spread to adjacent nearby homes as well as conducting interior fire attack and search in those structures. The fire was upgraded to a 3rd alarm where 44 firefighters and 12 apparatus were on scene.
Due to neighbours calling 911 to get crews on scene quickly, working smoke alarms and fast actions from adjacent residents evacuating, no injuries have been reported. Unfortunately, 10 people were displaced from the fire exposure to the two neighbouring properties. Firefighters were also able to assist rescuing a cat from one of the homes.
"This is a good reminder about having a home escape plans," said Captain Matthew Trudeau, Public Information Officer, Vancouver Fire Rescue Services. "When these residents realized that a fire was occurring against their home, they gathered their family and escaped unharmed."
The fire cause remains under investigation at this time.