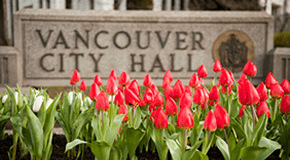 VANCOUVER City Council on Wednesday approved $2.05 million in critical support grants to more than a hundred arts and culture organizations that have been impacted by COVID-19.
Through the new COVID-19 Cultural Impact Critical Assistance (CICA) program, 103 arts and culture non-profit organizations will receive one-time funding and in-kind access to Vancouver Civic Theatres facilities to support their restart planning and equity initiatives.
The funding is specifically targeted at those non-profit organizations that have been most impacted by the pandemic, and those which are supporting communities that have been marginalized, as part of the City's overall recovery efforts.
"We are pleased to continue our commitment to championing the artists and cultural organizations that have been impacted by COVID-19 and support their return to the programming and services that make Vancouver a premier hub for arts and culture," said Branislav Henselmann, City of Vancouver's Managing Director of Cultural Services. "This funding will go some way in helping sustain the sector and play a critical role in the city's cultural and economic vitality."
Research has shown that artists and arts and culture organizations have disproportionately felt the brunt of the pandemic due to revenue loss from ticket sales, postponement of programs and services, and ongoing facility closures. These cultural recovery grants will enhance opportunities for organizations to adapt their programs.
The cultural recovery investment will support a wide range of initiatives:
* 84 one-time CICA grants, totalling $1.4 million in support of COVID-19 recovery
* 17 grants totalling $250,000 in support of equity-seeking organizations as part of an Equity Grants pilot program
* $300,000 to renew the Vancouver Music Fund, the first municipal fund of its kind in North America to provide direct support to Indigenous and underrepresented communities, delivered in partnership with Creative BC
* $50,000 to support Sector Equity for Anti-Racism in the Arts (SEARA), a community-led funding initiative for BC-based BIPOC Artists facing financial hardship due to COVID-19, delivered in partnership with Vancity Community Foundation
The $50,000 grant to SEARA will be invested in the #POWERSHARE fund, a community-led initiative to support BIPOC artists facing financial pressures due to COVID-19. The fund, which is being administered by Vancity Community Foundation, aligns with the City's Culture|Shift culture plan which is centred on equity.
"#POWERSHARE is about getting much needed funds to Black, Indigenous and Racialized artists during this pandemic. It is also about giving rise to the collective awakening of arts institutions, their funders and donors, in taking meaningful action on racism," said Michelle Jacques, Chair of the SEARA Steering Committee. "The City of Vancouver's $50,000 in support for #POWERSHARE will provide dozens of micro-grants to BIPOC artists in Vancouver, while giving a vote of confidence to this broader anti-racism initiative that recognizes that ending systemic racism will require leaders and philanthropists to share resources, and a lot more resources, not just good will."
The City has also continued its partnership with Creative BC through the second iteration of the Vancouver Music Fund, where artists and groups receive support to create demos, producing their first music videos and accessing professional development opportunities. This fund will provide vital recovery support for artists at the outset of their career and build their capacity in the music industry.
A full list of funding recipients can be found in the Council report.