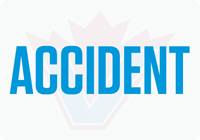 ON Friday, June 9 at 8:43 p.m., Abbotsford Police patrol officers responded to the 2800-block of Gladys Avenue for a report of a vehicle that had rolled over into a water-filled ditch.
Members of Abbotsford Police Department, Abbotsford Fire Rescue Service and BC Ambulance Service successfully extricated the single occupant of the vehicle, a 59-year-old male. He was transported to hospital with life-threatening injuries.
Constable Art Stele said that at this point, the factors that lead to the event's cause are unknown. Abbortsford Police and members of the Integrated Collision Analysis and Reconstruction Service (ICARS) are investigating. There is a road closure in the area.
Investigators are seeking witnesses and dashcam footage from those who may have been driving northbound on Gladys Avenue, just before the intersection of Sumas Way and Highway 11, between 8 p.m. and 9 p.m. If you can assist, you are requested to call the Abbotsford Police Department at 604-859-5225