IT was a weekend of giving for the Victor Ghirra Toy Drive committee who wanted to kick off the holiday season right.  The team was out in full force across the Lower Mainland looking to make a difference in memory of the man with a Golden Heart: Victor Ghirra.
Victor, who passed away in 2007, was involved in many charitable initiatives. But one charity that Victor was really touched by was the BC Children's Hospital.  A heartwarming story that depicted Victor's character was when he bought thousands of dollars of toys every Christmas and donated them to Children's Hospital to needy children anonymously.  When they would ask, "Who are you and where are these toys from?"  Victor would simply reply, "It doesn't matter who I am or where I am from, these toys are for the kids and that's all you need to know."
It was later found that Victor had made trips to the hospital for over a dozen years.  Victor was just being Victor. He didn't tell anyone what he was up to.
"In his memory, a toy drive was started by our good family friend Harvey Kooner and we all work together with local businesses, groups and schools to give back to good causes," said Bobby Ghirra, Victor's brother.
Over the last 16 years, Victor's toy drive has collected over 47,650 toys for dozens of charities across British Columbia and around the world.
For the 17th year of the toy drive, the committee wanted to start giving back early.  On Saturday, Victor's Toy Drive donated $1,000 to the Richmond Christmas Fund at the 9th Annual Richmond RCMP Toy Drive at Lansdowne Mall.  It was a wonderful event that brought the community of Richmond together for a great cause, supported by Richmond Cares, Richmond Gives.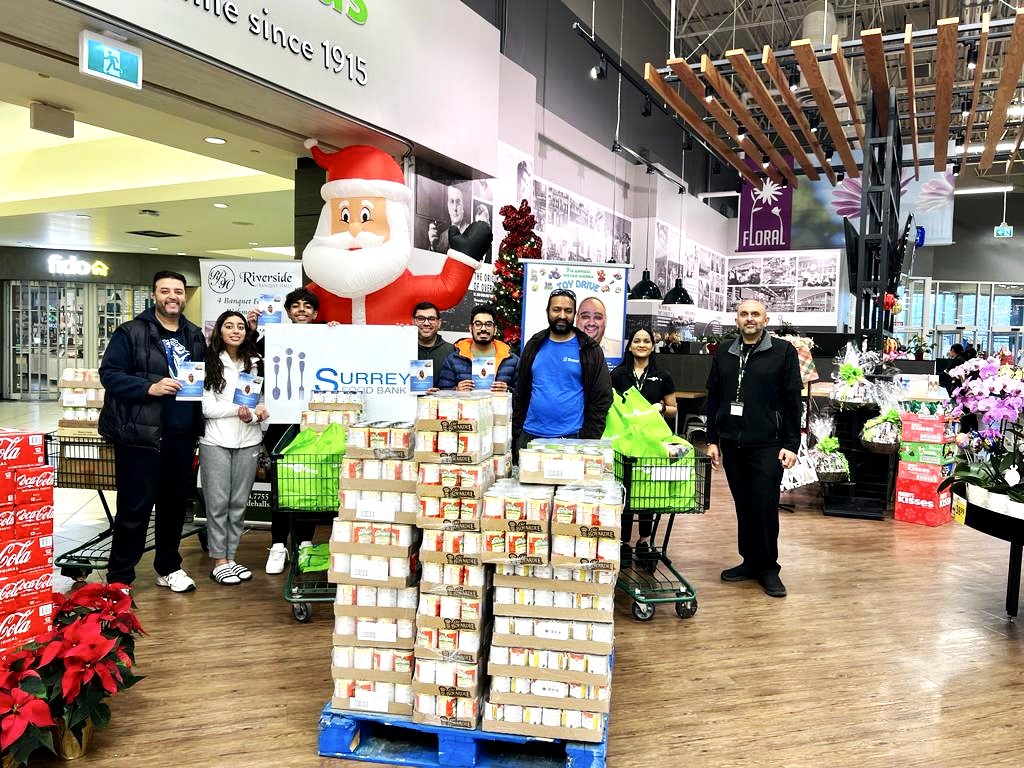 On Sunday, the Ghirra family, Riverside Banquet Halls and the Victor Ghirra Toy Drive team made their way to the Scottsdale Save On Foods location to donate $5,000 in food and gift cards for the Surrey Food Bank Society.  With sky-high inflation rates, families are in need of support during the holiday season.
"Surrey Food Bank appreciates these donations which will help many families this holiday season. We are still in need of baby food, such as baby formula, diapers, baby cereal, 100% juice boxes, and fruit cups. It costs the food bank over $250 per baby per month to provide baby food, for more information please visit our social media pages 'surreyfoodbank' on Facebook and Instagram or visit our website www.surreyfoodbank.org," said Vijay, Surrey Food Bank Society.
After reviewing the list of items most needed in the community, $4,000 in groceries were gathered by Save On Foods staff and $1,000 in gift cards were given to support Surrey Food Bank Society's efforts.  Kids Play Foundation was also invited to pick up a buggy full of groceries for their outreach in the Lower Mainland.
"Save on Foods is an active member of the community. Being involved and giving back is something we take a lot of pride in the communities that we serve. We are proud to support community initiatives," said Jas Athwal, Director of Merchandising – Ethnic, Save on Foods.
The 17th Annual Victor Ghirra Toy Drive event will be taking place on Sunday, December 10th at Riverside Palace Banquet Hall, 14431 Knox Way, Richmond. From 12 p.m. to 2 p.m., everyone is invited to the Palace. It's a family-friendly event that will be collecting toys for over 17 good causes in the community. You are encouraged to bring a new, unwrapped toy and enjoy holiday cheer, accompanied by treats, music and a photo booth. This year the toy drive will be striving to hit a milestone of 50,000-plus toys collected.
For more information on how you can get involved and make a difference in the community, contact Harvey Kooner at 604-671-4180 or harveykooner1@gmail.com.
(Contributed)