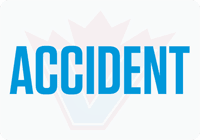 RICHMOND RCMP are seeking the public's assistance regarding a single vehicle motor collision that occurred at the intersection of Knight Street and Westminster Highway.
Shortly before 10 p.m. on May 6, Richmond RCMP received reports of a single vehicle collision at the intersection of Knight Street and Westminster Highway. The vehicle, a gray, 2-door Mini Cooper was travelling southbound on Knight Street, when it allegedly went through a red light and crashed into a light standard.
According to a witness, who was facing southbound and stopped at the red light, the vehicle approached from behind her at a high rate of speed. The witness said she observed the vehicle suddenly swerve in what she believed was an effort to avoid crashing into her. She alleges the vehicle then proceeded through the red light where it crashed into a light standard.
The lone male occupant was pinned in the vehicle and multiple bystanders rendered assistance to him until EHS and fire arrived on scene. The male was transported to a local area hospital with serious injuries. The male has since been released from hospital.
Multiple witnesses remained on scene and provided statements to frontline officers.
The Integrated Collision Analyst and Reconstructionist Services (ICARS) were called and attended the scene.
The cause of this collision remains under investigation. Speed is being considered as a factor.
Richmond RCMP are continuing their investigation into this crash and are seeking witnesses, including those who may have observed events leading up to it or have dash camera footage. If you have any information, contact Richmond RCMP at 604-278-1212 and reference file number 2020-12253.