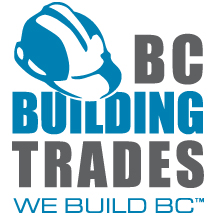 There were 27 work-related construction deaths in 2019
THIRTY-NINE years ago, four men went to work building one of Downtown Vancouver's most iconic highrises: the Bentall Centre Tower IV.
Those men never came home.
"Every year on this day, we gather to remember the lives of carpenters Gunther Couvreux, Brian Stevenson, Donald Davis and Yrjo Mitrunen, who plunged 36 floors to their deaths when the fly form they were standing on collapsed," said Andrew Mercier, Executive Director of the BC Building Trades. "And every year, we are reminded that construction workers continue to die as a result of workplace trauma and exposure.
"We must do better."
In the years since the Bentall tragedy, more than 1,000 construction workers have died in B.C. due to workplace trauma or disease. There were 27 work-related deaths in the construction industry to the end of November last year. Of those, nine were due to traumatic injury while 14 were due to asbestos-related disease and four were due to other diseases (caused by silica dust and ammonia).
Construction workers continue to sustain an occupational fatality rate that is three times the provincial average.
"We can prevent worker deaths and injuries with proper emphasis on workplace safety, training and enforcement," said Mercier.
Every year, representatives from the BC Building Trades, the labour movement, WorkSafeBC, the business community and local leaders join family members and the public to mark the deaths of the four construction workers who died on January 7, 1981. The memorial is an opportunity to remember the men who are so deeply missed, and to renew the call for stronger safety measures in the construction industry.
Participants placed wreaths at the Bentall Memorial plaque: nine red roses for workers who died from trauma, and 18 white roses for workers who died from exposure and disease.
The import, sale and use of asbestos, and the manufacture, import, sale and use of products containing asbestos were banned in Canada as of December 30, 2018, with some exceptions. Although a long time coming, these new regulations will save lives, said Mercier.