SUNDAY UPDATE:
The Ministry of Home Affairs (MHA) of India has granted emergency visas to 111 Hindus and Sikhs from the country, hours after the terrorist attack. All 111 people had applied for the visa in September 2021, according to Indian media reports on Sunday. Only 159 members of the minorities remain in Afghanistan, including three members who do not have any passport.
THE World Sikh Organization of Canada on Saturday called once again on the Government of Canada to recognize its humanitarian duty and immediately evacuate Afghan Sikhs and Hindus to Canada.
A terrorist attack on Saturday at Kabul's Gurdwara Karte Parwan destroyed the complex and resulted in the death of at least one Sikh. Several others are reported to be injured. This is the latest in a long series of attacks targeting the Sikh and Hindu communities of Afghanistan.
ISIS-K is suspected to be responsible for the latest suicide terror attack. ISIS-K also claimed responsibility for the March 2020 attack on Gurdwara Guru Har Rai Sahib in Kabul in which 25 Sikhs lost their lives.
Over the past year, the Karte Parwan Gurdwara had been vandalized and ransacked by armed criminals and a Gurdwara in Jalalabad was also the target of a bomb attack.
Fewer than 200 Sikhs and Hindus remain in Afghanistan today.
Since 2016, WSO has been advocating on behalf of Afghan Sikhs and Hindus and asking the Government of Canada to create a special resettlement program. Afghan Sikhs and Hindus have been long-standing targets of extremist groups. Attacks on gurdwaras and places of work have led to the killing of innocent children and adults.
Alarming news from #Kabul armed militants likely from #ISIS as per Gurnam Singh the president of Gurdwara,have entered Karte Parwan Gurudwara.He is weeping & many of those residing in Gurdwara have been killed as per him .Requesting @narendramodi ji & @MEAIndia for SOS assistance pic.twitter.com/5iEtCLMTwH

— Puneet Singh Chandhok (@PSCINDIAN) June 18, 2022
The WSO has repeatedly called on the Government of Canada to evacuate Afghan Sikhs and Hindus and create a special resettlement program for the vulnerable minority group. The Sikh community has committed and is prepared to privately sponsor the evacuation and resettlement if the Government of Canada creates the program, the WSO noted.
Less than one year ago, in June 2021, in his testimony before the Subcommittee on International Human Rights of the Standing Committee on Foreign Affairs and International Development, WSO legal counsel Balpreet Singh said, "The question isn't whether there will be another attack. The question is when the next attack will be.
"These are extremely vulnerable individuals who do not have a future in Afghanistan or in India. They're looking desperately to Canada to save their lives. It's been frustrating to advocate without real results on their behalf for this long.
"The Sikh community is willing and able to pay for all the resettlement costs, and has done so for the small number of Sikh refugee families who have arrived from the Helmand group. We just need the government to give us the permission to bring them here."
Sadly, no action has been taken to bring Sikhs and Hindus to safety from Afghanistan.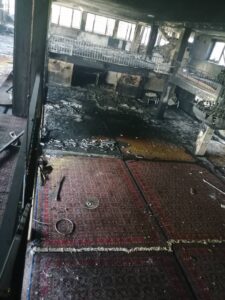 WSO President Tejinder Singh Sidhu said: "We need the Government of Canada to step up and bring Sikhs and Hindus in Afghanistan to safety. The community is not going to accept any more excuses.
"This is a question of political will. We have seen the expedited evacuation of vulnerable refugees from Afghanistan and other countries and we believe Afghan Sikhs and Hindus are just as needful and deserving of such an evacuation today. Every day we wait means another day our brothers and sisters in Afghanistan are facing terror and death.
"We are willing to do our part by sponsoring the evacuation. We need the Government of Canada to do its part and create the program"