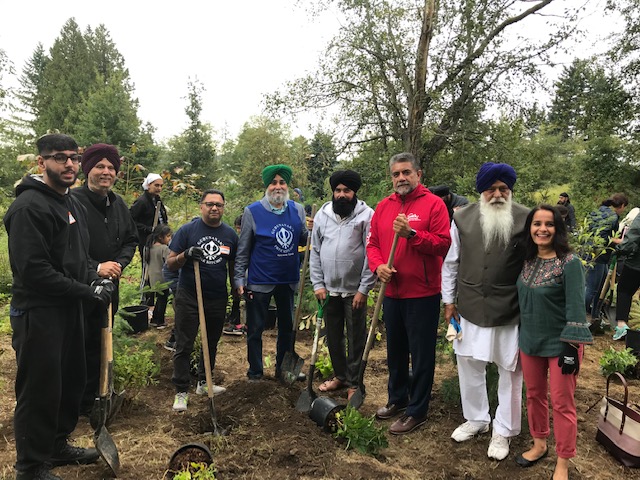 GURU Nanak's Free Kitchen (GNFK) and the City of Surrey (Parks Division) successfully hosted a 550-tree planting event in honour of the 550th birthday of the founder of Sikhism, Guru Nanak Dev Ji.
The event attracted over 200 tree-planting volunteers including local politicians. Free  hot vegetarian meals and drinks were served to all those that attended.
"We are thankful to the City Parks Department, especially Robin Landucci, for allowing us the opportunity to plant 550 trees. The event was a huge success due to the efforts of the local community," said Dilpreet Kaur, one of the organizers.
Local MLA Harry Bains said: "Wow, what a wonderful event. It's inspiring when the community comes together for Mother Nature. We need more events like these which makes positive impacts to our environment."  
Surrey Mayor Doug McCallum said: "We are thankful to GNFK and it's volunteers that have gathered so many volunteers to plant over 550 trees at Hazelnut Community Park. We will need to do more for our parks and we will support local community groups that want to support such initiatives."
The event started at 11 a.m. with a Sikh prayer from local Sikh priest, Giani Nurinder Singh of Dukh Niwaran Gurdwara, Surrey.  He said: "We encourage everyone to plant trees at their homes. Let's do our bit for Mother Nature.  I am so humbled to be part of this noble event and I congratulate all the volunteers who dedicated their time to plant hundreds of trees."
The event is part of a global initiative to plant 1,000,000 trees in honour of Guru Nanak Dev Ji.  
"I really enjoyed planting trees and I plan to come back in a few weeks and subsequent months to see them grow. Future generations will benefit from these type of initiatives,"  said Jas Singh, who travelled from Vancouver.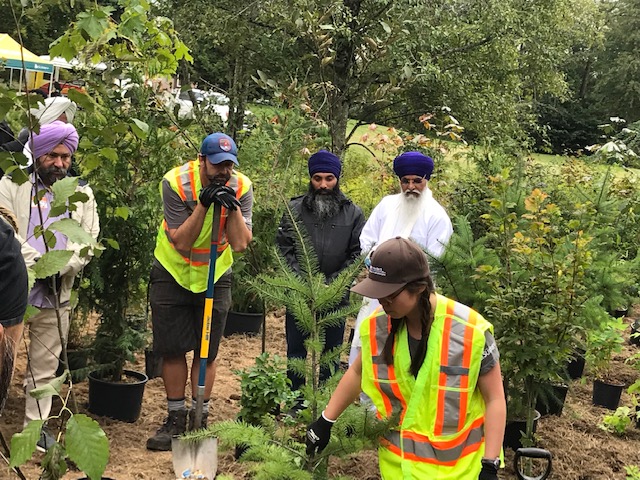 The aim is to make this an annual event, and discussions  are already underway between the organizers, Guru Nanak's Free Kitchen, and the City of Surrey Parks and Forestry Department. "Volunteers are pleading with us to do this more frequently, and we would be honoured to expand our calendar of events to include 'Tree Planting.'  We are also thankful to Guru Nanak Sikh Gurdwara Surrey, Dukh Niwaran Gurdwara and Khalsa Credit Union for the food and drinks," said Balbir Singh Hundle, one of the organizers from Guru Nanak's Free Kitchen.