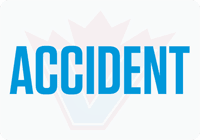 BURNABY RCMP on Tuesday announced that the 77-year-old pedestrian who was involved in a motor vehicle collision on July 19 has passed away in hospital.
Frontline officers came upon the collision on Sunday, July 19 just after 5 p.m. The vehicle was travelling westbound on Grange Street when the collision occurred at the Barker Avenue intersection, which is equipped with traffic lights. The driver of the vehicle remained on scene and cooperated with the investigation.
"Our deepest sympathies go to the family and friends of the victim," said Cpl. Mike Kalanj. "We are once again asking for anyone who may have witnessed this collision or have dashcam video to please come forward."
Burnaby RCMP's Criminal Collision Investigation Team continue to investigate and are asking anyone who may have witnessed this collision or has any information to contact Burnaby RCMP at 604-646-9999.