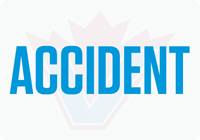 ON Monday at 4:37 a.m., two Abbotsford Police patrol officers while responding to a shots-fired call ended up in a serious motor vehicle collision in the 33600-block of George Ferguson Way, crashing into a concrete wall. The officers were transported to hospital with non-life-threatening injuries.
No civilians or civilian vehicles were involved in the collision, police said. George Ferguson Way between McCallum Road and Pauline Street was closed in both directions.
Meanwhile, officers determined a home invasion had occurred at a marijuana grow operation in the 34700-block of Townshipline Road from where the shots-fired call had come. No victims have been located at this scene by police.
The Abbotsford Police Department's Major Crime Unit has taken over the investigation.
Police are seeking witnesses and dashcam footage from those who may have been at either location. If you can assist, you are requested to call the Abbotsford Police Department at 604-859-5225.