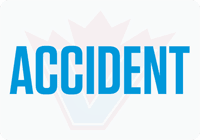 NORTH Vancouver RCMP have made an arrest and seized a vehicle after a hit-and-run pedestrian collision at about 10:15 p.m. on Monday near Keith Road East and St. Andrews Avenue. A 17-year-old female remains in critical condition, and investigators are appealing for additional witnesses to contact the Detachment at (604) 985-1311.
Witnesses found the victim unconscious and critically injured. Additional witnesses heard the collision and sounds made by the vehicle, and investigators believe there may be others not yet identified who saw or heard the collision, or possibly captured evidence on surveillance video.
"Although we have made an arrest, it's very important that we continue our efforts to gather all available evidence," said Sgt. Peter DeVries on Tuesday. "We are looking for witnesses from two separate areas who may have seen or heard a white, newer model vehicle in the area or on neighbouring streets. If you were near Keith Road East, between Ridgeway Avenue and St. George's Avenue around 10:15 p.m. last night, or live in the area, and you saw the vehicle or heard the collision, or if you were near Lynn Valley Road and the Safeway parking lot at Lynn Valley Centre shortly after 10:15 p.m. and saw a vehicle matching that description, then please call us at (604) 985-1311."
Police are also asking anyone with dash cam or surveillance video to come forward. "Your surveillance camera may have captured something. Please check," said DeVries.
To assist in processing the collision scene, frontline officers requested assistance from the Integrated Collision Analysis and Reconstruction Section (ICARS) of the Lower Mainland I-Teams.
"While investigators made good progress overnight," said DeVries, "there's still a lot of work to be done."
He added: "Our greatest concern is for the health of this young woman. We have the investigation well in hand. The focus for everyone else right now should be on her recovery."