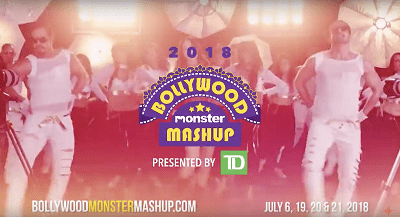 Aaman Trikha, voice of Hookah Bar & Prem Leela and Khushboo Grewal, voice of Pink Lips and actor of Carry On Jatta are this year's headliners
MISSISSAUGA: The largest South Asian festival in Canada is back and ready for its eighth year of Bollywood fun. #BollywoodMonster Mashup presented by TD, spans four events between July 6 and 21, culminating with free performances by Bollywood singers, a free KidZone, an assortment of fantastic cuisines, spectacular dancers, film and much more at Mississauga Celebration Square.
Aaman Trikha, brought to you by TELUS, is the voice of Akshay Kumar in Hookah Bar (Khiladi 786) and Salman Khan in Prem Leela (Prem Ratan Dhan Payo) and has many other Bollywood hits under his belt. Trikha is set to bring the audience a captivating set sure to get Bollywood fans singing and dancing in the heart of Mississauga on Saturday, July 21.
Khushboo Grewal, voice of Sunny Leone in Pink Lips (Hate Story 2) and actor in Punjabi films Carry on Jatta and Bhaji in Problem among many others, will perform for the first time in Canada on Friday, July 20 at Mississauga Celebration Square. Khushboo is also known by many as the lead singer for the popular composer duo the Meet Bros.
"We've been working to bring Mississauga, Brampton, and the neighbouring GTA communities a Bollywood celebration to be remembered. As the largest South Asian festival in Canada, we have an exciting responsibility to deliver events that truly excite the community year after year", says Executive Director of MonstrARTity, Vikas Kohli. "We couldn't be more proud to bring our Bollywood stars to the people of the GTA and continue to foster excitement for this great festival!"
Gather your family and friends and gear up for a Bollywood celebration this July! For a detailed schedule of what #BollywoodMonster Mashup is bringing the GTA this time around, head on over to http://www.bollywoodmonstermashup.com/schedule/ or see below.
#BollywoodMonster Mashup Calendar:
#BollywoodMonster Teaser Party
Fly 2.0 Nightclub, Toronto
Friday, July 6th, 10:30 PM – 3 AM
#BollywoodMonster VIP and Media Cocktail Reception
C Banquets, Mississauga
Thursday, July 19th, 8-10 PM
#BollywoodMonster Concert
Mississauga Celebration Square
Friday, July 20th, 4 PM onwards
#BollywoodMonster Family Day & Finale
Mississauga Celebration Square
Saturday, July 21st, 2 PM onwards
Check out the video below to see what's in store at the festival.
Watch #BollywoodMonster Mashup Promo
Aaman Trikha is a playback singer and performer from Mumbai, India. He has recorded songs in more than 10 different languages, including south languages such as Tamil and Malayalam, but is widely recognized as a Bollywood artist. In 2013, Trikha was nominated at the Stardust Awards for Best Upcoming Male Musical Sensation, as well as winning the Best Emerging Singer Award in Lions Club Gold Awards the same year. Trikha released his first solo music video in 2014, titled "Mahiya Tu Hi Tu" and has appeared in Bollywood films Khiladi 786, Prem Leela, Son of Sardaar and many more.
Khushboo Grewal
Khushboo Grewal is a Punjabi film actress, veejay and singer from Chandigarh, India. She got her first taste in the entertainment industry at 15 years old when she finished runner up for Miss India North, followed by reaching the finals in Channel V Popstar in 2002. Later, Grewal became a beloved veejay working for B4u music and her career began to skyrocket from there. Not long after she appeared as the voice of Sunny Leone in Pink Lips (Hate Story 2), which topped the international and national charts. Always on the go, her hands are always full with multiple assignments at a time, from shoots for films to television and documentaries, the work never stops with Khushboo Grewal.