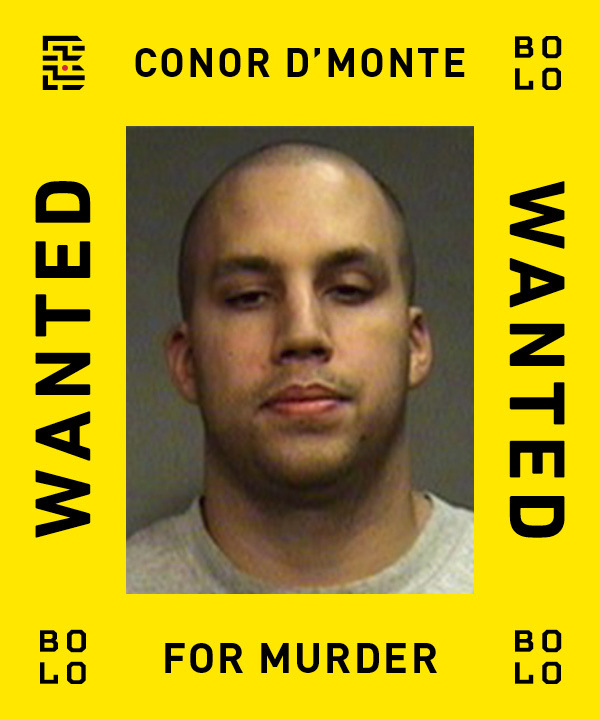 IN January of this year, the Combined Forces Special Enforcement Unit of BC (CFSEU-BC) introduced a new strategy to aid in the capture of Conor D'Monte, in an attempt to bring him to justice for the 2009 murder of Kevin LeClair and his criminal acts of violence that plagued the streets of British Columbia for several years.
Since the partnership of the CFSEU-BC and the BOLO Program, with assistance from Metro Vancouver Crime Stoppers, was launched in January of this year, investigators have received in excess of 20 tips, continuing to advance the investigation.
D'Monte is known to have ties to the Los Angeles (LA) area of California. In order to renew and increase its efforts to find and arrest him, the CFSEU-BC is continuing to partner with the Bolo Program that is re-launching an amplification campaign in collaboration with the United States Marshals Service (USMS) that the CFSEU-BC hopes will lead to the arrest of Conor D'Monte.
The Bolo Program is a Canadian public safety innovation project which launched in Toronto in May 2018, with its first amplification of individuals wanted for crimes happening in cooperation with the Toronto Police Service. The Bolo Program's mission is to encourage citizens, regardless of location, to be on the lookout for Canada's most wanted, so they can help keep communities safe by submitting tips to assist the police to arrest these suspects. To find out more on the Bolo Program: www.boloprogram.org/.
The Bolo Program will continue to organize and fund a media campaign locally, as well as in the LA area of the U.S., to aid in the arrest of D'Monte, extending the offer of its very first reward. In cooperation with Metro Vancouver Crime Stoppers, the Bolo Program is offering a reward up to US $100,000 or US$75,000 for any information leading to the arrest of D'Monte. This extended reward is available until January 30, 2020.
Crime Stoppers will award the money to anyone who anonymously provides them with information that leads police to the arrest of D'Monte.
Anyone who has information on the location of Conor D'Monte is encouraged to contact their local police or Crime Stoppers at 1-800-222-TIPS or online at solvecrime.ca. USMS tip line: 1-877WANTED2
"Conor D'Monte and his fellow gang members are responsible for an unprecedented level of brazen gang violence in the history of British Columbia. Police will not rest until we have brought all those responsible to justice. Working in partnership with the Bolo Program is another example of our tenacity and dedication to find D'Monte and have him held responsible for his crimes," says Assistant Commissioner Trent Rolfe, CFSEU-BC Chief Officer.
Background:
In 2008 and 2009, the Lower Mainland of British Columbia was in the midst of the worst gang violence in its history. The two main rival groups, the Red Scorpions and the United Nations, were openly shooting each other's members and innocent victims were killed in the crossfire. Police agencies across the region began joint investigations into the members and the groups, which culminated, over time, in the arrests and convictions of dozens of gang members and their associates.
In February 2009, LeClair, a Red Scorpions gang member, was murdered in a brazen daylight shooting at a strip mall in Langley. While his murder was one of many, it prompted one of the longest and most involved joint investigations in CFSEU-BC's history, one that continues to this day.
The violence associated to the United Nations gang, including the murder of LeClair, resulted in the CFSEU-BC and Integrated Homicide Investigation Team (IHIT) joining forces. As a result of the combined efforts, between 2008 and 2018, there have been 18 arrests and 12 convictions of UN gang members and associates for serious offences, including murder and conspiracy to commit murder.
One of those people that has been charged with the murder of LeClair and despite the best efforts of police, has continued to escape arrest, is D'Monte, a high-ranking UN gang member.