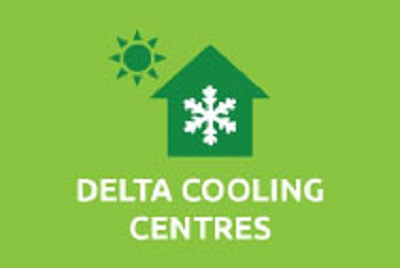 WITH increased temperatures expected later this week (Thursday to Saturday), Environment Canada has issued an alert to watch for the effects of heat illness. If you're in need of water or some time in air-conditioning to cool down, visit a Delta Cooling Centre, open daily from 8 a.m. to 8 p.m.:
Ladner Pioneer Library, Tsawwassen Library and George Mackie Library are also designated as Delta Cooling Centres and are available Friday and Saturday from 10 a.m. to 5 p.m., Sunday from 11 a.m. to 5 p.m., and Monday to Thursday from 9 a.m. to 6 p.m. Libraries will be closed on Monday, August 2 for BC Day.
During this hot weather It's important to check on others, including seniors, young children and pets, and watch for signs of dehydration and heat exhaustion.
Be sure to drink plenty of water even before you feel thirsty, stay in a cool place, and watch for these symptoms of heat illness:
dizziness/fainting; nausea/vomiting
rapid breathing and heartbeat
extreme thirst; and
decreased urination with unusually dark urine.
For more info on heat-related illness and how to protect yourself, visit www.healthlinkbc.ca/healthlinkbc-files/heat-related-illness.