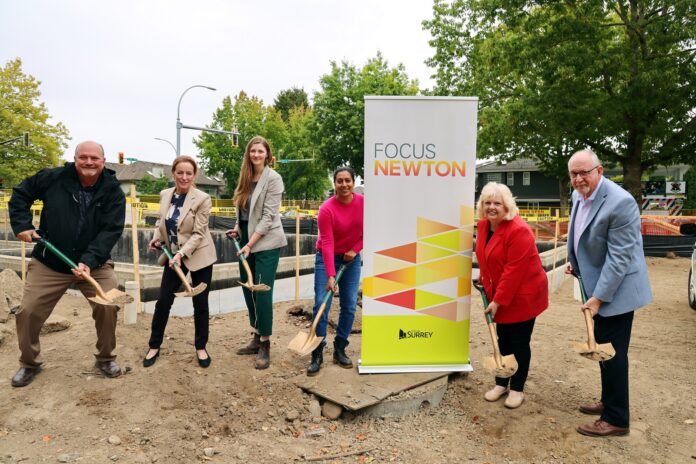 CONSTRUCTION has begun on the new Strawberry Hill Community Hall following a small groundbreaking event held on the site on Tuesday on the perimeter of R.A. Nicholson Park in the Strawberry Hill neighbourhood of west Newton.
"I am thrilled to be breaking ground for the Strawberry Hill Community Hall," said Surrey Mayor Brenda Locke. "Losing this building was disappointing to so many people. While we can never get the original back, I'm pleased we can offer a new space to the Newton community to enjoy for decades to come. I look forward to celebrate welcoming residents into the new Hall when it opens next spring."
In 2021, a fire destroyed the historic Strawberry Hill Hall that was currently under construction as part of a $1.2M rehabilitation project that would have seen areas built for childcare and community rentals. Built in 1909, it was among the oldest community halls in Surrey.
The construction contract was awarded to Jacob Bros Construction Inc. with funding confirmed through the City's five-year capital budget and over $425,000 in grant support through Province of B.C.'s ChildCare BC New Spaces Fund. The provincial funding provides funds to create new licensed quality, inclusive, community based affordable childcare programs. The grant will be used to support 18 child-aged before and after school care spaces, as well as 18 spaces for children aged three to kindergarten.
In addition to childcare program, the facility will be used for community rental opportunities and include cultural programming on a regular basis.
"We know, with Surrey's continued growth, the demand for child care will continue to grow as well," said Grace Lore, Minister of State for Child Care. "While it's never easy losing a historic landmark like the Strawberry Hill Hall, I'm glad we can partner with the City of Surrey as part of the rebuild to deliver much-needed services like access to affordable, quality, inclusive child care that families can rely on."
The project is anticipated to be completed in the spring of 2024.