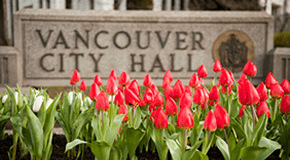 [responsivevoice_button voice="UK English Female" buttontext="Listen to Post"]
City suppliers and sub-contractors to operate within recognized animal welfare best practices
FOLLOWING updates to its procurement policies that went into effect August 1, the City of Vancouver will be working with suppliers who meet best practice levels for animal welfare.
This commitment is the result of a City Council motion that was approved in May to support higher animal welfare standards through updated procurement and supplier code of conduct policies.
"Incorporating animal welfare into our policies aligns with Vancouver being a world class leader in procurement practices as well as demonstrating the City's commitment to healthy cities/communities and healthy ecosystems," said Patrice Impey, General Manager of Finance, Risk and Supply Chain Management. "These updates also align with the Greenest City Action Plan, Environmental Framework for Municipal Operations, and Social Planning food strategies."
Following a review of similar policies in other jurisdictions, and direct consultation on scope and wording with the BC SPCA, Vancouver is one of the first cities in Canada to update its Ethical Procurement Policy and Supplier Code of Conduct to ensure its suppliers and their sub-contractors operate within recognized animal welfare best practices, such as the Five Freedoms, which are:
Freedom from hunger and thirst
Freedom from pain, injury and disease
Freedom from distress
Freedom from discomfort
Freedom to express behaviours that promote well-being
"We would like to acknowledge the City of Vancouver for taking this extremely progressive step to recognize the importance of animal welfare in their procurement of services or goods," said Marcie Moriarty, chief prevention and enforcement officer for the BC SPCA. "We hope that other municipalities will take note of Vancouver's leadership in this area and incorporate their own procurement policies that consider animal welfare.
The updated policies apply to all City procurements and can be referenced when animal products or services are purchased to ensure the humane treatment and welfare of animals under human control, including their basic necessities, are maintained through the production and supply chain.
These changes are per Council direction from the Standing Committee on Policy and Strategic Priorities resolutions dated May 15, 2019.
For more information, go to vancouver.ca.