Canadians divided about minority government result, more than half expect election within two years
WHILE Liberal and NDP bases enthusiastically back the prospects of Liberal Leader Justin Trudeau and NDP Leader Jagmeet Singh leading each respective team into the next federal campaign – whenever that is – many of those who cast ballots for the Conservative Party on October 21 are in a decidedly fouler mood.
Indeed, after an election outcome that saw the party win the popular vote but fall short on seat count in Parliament, the latest public opinion survey from the not-for-profit Angus Reid Institute shows approaching half of Conservative Party of Canada supporters now say Andrew Scheer should not be the person to lead the party into battle again.
The findings of the post-election opinion poll reveal a slight east-west divide on the matter, with Conservative voters living in Ontario and east of the province marginally more likely to say the leader must ultimately go, while those in Canada's four westernmost provinces are slightly more inclined to back his continued leadership. Education also drives opinion on this issue, as CPC voters with college and university education are also more inclined to seek a change at the top.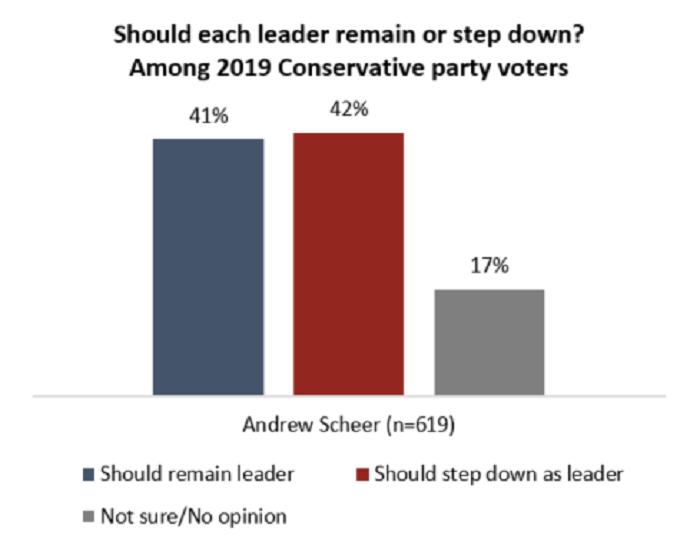 More Key Findings:
While 41 per cent of Conservative voters say Scheer should stay on as leader, more than four-in-five supporters say this of Trudeau (85%) and Singh (87%)
Most Canadians are ambivalent about the result of the election. One-in-four (23%) say they feel neither pleased nor upset about the Liberal minority, while another three-in-ten are pleased (31%). Notably, led by residents of Alberta and Saskatchewan, one-in-five (22%) are very upset
Asked how long they feel the Liberals will be able to govern with a minority in parliament, one-in-three Canadians (34%) say they will surpass the two-year mark, while 55 per cent disagree