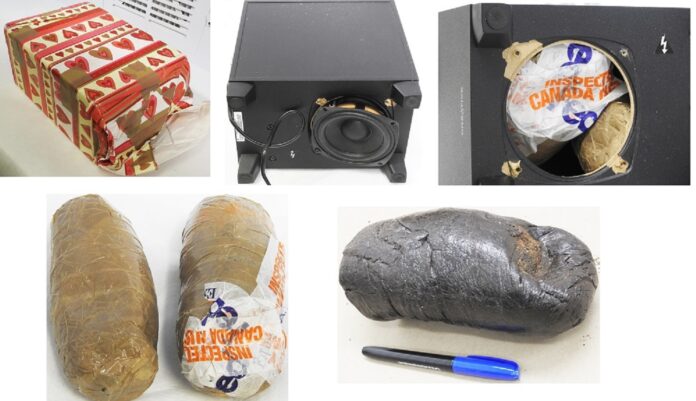 A BC man convicted of importing two kilograms of opium was sentenced to three years of imprisonment last month.
In February 2017, a BC RCMP Federal Serious and Organized Crime (FSOC) – Major Projects team initiated a transnational drug importation investigation stemming from Germany. Shortly after arresting Hamid Nemati Shirazi for drug trafficking, German Federal Police authorities (Bundespolizei or BPOL) discovered shipment details for a package suspected of containing opium and alerted the RCMP International Liaison Officer to the Canada-bound package.
Acting on this intelligence, the RCMP Liaison Officer requested that Ontario RCMP FSOC and the Canada Border Services Agency (CBSA) intercept the package destined for Coquitlam while it transited via Toronto.
After the package was intercepted at the Toronto Pearson Airport, the BC RCMP FSOC Major Projects team took conduct of the investigation into package and its intended recipient in Coquitlam, B.C. The investigation revealed that the package contained a subwoofer speaker that was used in attempt to conceal two kilograms of opium hidden inside the subwoofer box.
On February 14, 2017, members of the BC RCMP FSOC Major Projects team arrested Hamid Modrek Najafabadi and executed a search warrant on his Coquitlam home which resulted in the seizure of the two kilograms of opium as well as $3,250 in cash. The search also revealed four hollowed out water pumps that were consistent with previous opium shipments linked to earlier investigations conducted by the Bundespolizei.
Modrek Najafabadi was subsequently charged with Possession for the Purpose of Trafficking, and Importing a Controlled Substance under the Controlled Drugs and Substances Act (CDSA).
On April 29, 2022, Modrek Najafabadi was sentenced to three years of imprisonment, along with ancillary orders for forfeiture of exhibits, a DNA order, and a 10-year weapons prohibition.
Modrek Najafabadi's suspected counterpart in Germany, Nemati Shirazi, was also sentenced by a German court to five and a half years of imprisonment, and seizure of €56,000 of his personal assets.
"FSOC Major Projects teams use innovative, advanced investigative techniques, and work collaboratively with our policing partners to meet our common goals of effectively combatting transnational organized crime," said Superintendent Richard Bergevin, Officer in Charge of BC RCMP Federal Policing – Major Projects, on Friday. "This successful investigation showcases the great work that can be accomplished through our domestic and international partnerships, and our International Liaison Officers' dedication to protecting Canadians from their assigned duty stations around the globe."
According to the United Nations Office on Drugs and Crime (UNODC), the world's major opium producers that include Afghanistan and Myanmar have been ramping up production, with the 2021 opium harvest in Afghanistan increasing to 6,800 tons. UNODC states this could translate to flooding the global drug market with around 320 tons of pure heroin, which according to the Centers for Disease Control and Prevention (CDC), further exacerbating the opioid crisis as heroin is often mixed with the more potent and deadlier synthetic opioid, fentanyl.
In response to the increasing sophistication of transnational organized crime groups, the BC RCMP FSOC Major Projects teams are mandated to specifically target organized crime groups whose criminal activities have divisional, national, and international implications for Canada. Given the complexity and duration of such investigations, the FSOC Major Projects teams conduct longer term, intricate, project oriented investigations with a national and transnational scope, often involving numerous domestic and international partner agencies from around the world.