THE Dr. Hari Sharma Foundation on Thursday announced the passing of the Foundation's President, Dr. Chinmoy Banerjee, on July 29.
"Chin da", as he was affectionately called, was a son, dad, brother, husband, grandfather, a poet, teacher, mentor, an activist, comrade, and leader, stellar in every aspect and impacting the lives of many, the Foundation said.
He was born on January 10, 1940 in Baidabharty, Bengal, and completed his undergraduate and Master's degrees in English Literature at Delhi University where he met his first wife. In 1966, their son Anand was born, and soon after, Chin moved to Kent State University in the U.S. to do his PhD in 18th Century English Literature.
Chinmoy was actively involved in progressive politics, such as protesting against the US invasion of Cambodia and the American presence in Vietnam. Whenever protests arose in India, he was always the first to lend his voice to the indignation and outrage, spearheading solidarity.
In 1970, the family moved to Canada where he started teaching English at Simon Fraser University. Later that year, daughter Nandini was born. After receiving tenure in 1975, Chin joined Dr. Hari Sharma, Dr. Daya Varma, and Dr. Vinod Mubayi, as a leader of the Indian People's Association of North America (IPANA), an advocacy organization of progressive Indians who supported democratic rights and social justice in India, and wrote for its two publications: New India Bulletin and India Now.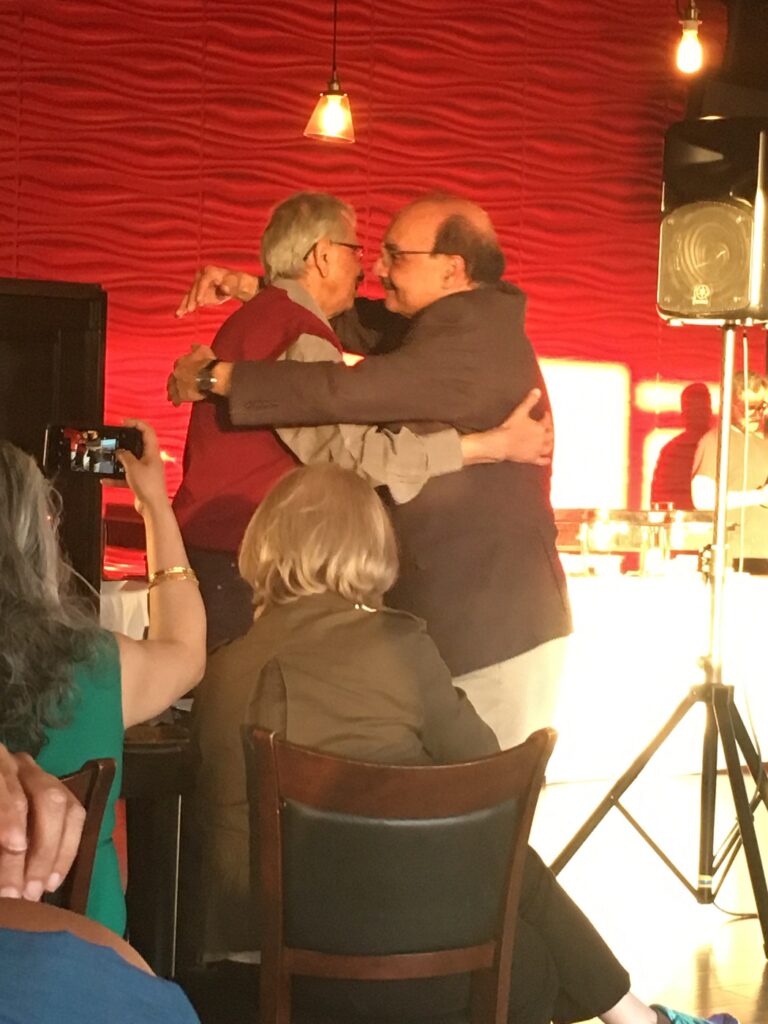 Having engaged in struggles against racism in the 1970s, Chin, with IPANA, became a primary force in the formation of the British Columbia Organization to Fight Racism (BCOFR: 1980) and the Canadian Farmworkers' Union (CFU: 1980). Chin was a founding member and leader of the Non-Resident Indians for Secularism and Democracy (NRISAD) which morphed into South Asian Network for Secularism and Democracy (SANSAD). He also founded the South Asian Film Education Society (SAFES) and was the first president of the Dr. Hari Sharma Foundation (HSF).
The HSF sponsors cultural events for many local and international organizations, international conferences and cultural events on migrant labour, Sufi thought, racism, and the environment. The HSF also funds multiple research projects and scholarships.
Patricia Gruben, Vice-President of the Dr. Hari Sharma Foundation, said, "Chin was the driving force behind setting up the Foundation in 2009 and keeping it active and productive as President for the past 11 years. He felt that film screenings, music concerts, literary events and gallery shows were just as important as the academic research and progressive political conferences that we funded; they were all part of a continuum of appreciation for South Asian culture and society that we aimed to support. "
Chin taught English literature, literary criticism, and postcolonial studies at Simon Fraser University for 35 years, voted and celebrated by students as the "best teacher" and received the 1991 Excellence in Teaching Award at SFU. His life was dedicated to learning, and his
approach to understanding society was not limited to reading; he breathed poetry, history, music, and appreciated the medium of film. Though he enjoyed the films of Satyajit Ray, Hitchcock, and so many others, the dearest to his heart, was Charlie Chaplin.
He was deeply concerned about the systematic attack on the pluralist society and culture of India since Narendra Modi came to power with a Bhartiya Janata Party (BJP) majority in 2014.
Chin leaves behind a legacy of activism in the service of the humankind. He inspired hundreds of people to fight for human rights and a better world without suffering or oppression with equality regardless of religion, caste, race, or gender. He left a better world for us where we have learned to fight battles for justice, stand on principles, and to be more compassionate. His life and legacy will continue to inspire.
He lived a dignified life, while striving to achieve the same for everyone. And, in a dignified manner, with the assistance of his health professionals, in the presence of his beloved children and a few lifelong comrades, surrounded by laughter and love, passed away peacefully on July 29, wearing his much-cherished Charlie Chaplin shirt listening to Bach's "Goldberg Variations".
Dr. Chinmoy Banerjee is survived by his wife of 25 years, Robyn Kathleen Banerjee, son Anand Banerjee (wife Beth), daughter Aedon ("Nandini") Young (husband Rob), grandson Max and granddaughters Alexandria and Maya. A celebration of Chin's life will be held when
COVID-19 restrictions are relaxed.