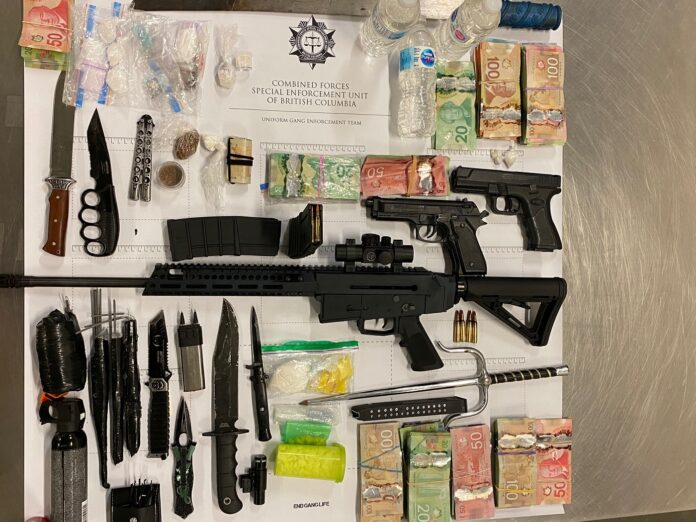 MEMBERS of the Combined Forces Special Enforcement Unit of British Columbia's (CFSEU-BC's) Uniform Gang Enforcement Team (UGET), who were deployed to Kelowna and Vernon last week, seized two airsoft guns, nine knives, one baton, one machete, one prong gun and two cans of bear spray, and one Kodak WK18OC with magazines (AR-15 style rifle), as well as suspected cocaine, crystal meth, heroin, Percocet and potentially deadly fentanyl.
Over the four days that UGET was in the Okanagan, 65 vehicles were stopped and 193 people were checked, with the majority of those people connected to the street-level drug trade.
UGET worked in partnership with the Kelowna and Vernon RCMP to ensure that the team was briefed on local crime hot spots and received up-to-date intelligence to help direct their enforcement activities while in the area.
By conducting active and high visibility enforcement in the communities, including on those individuals or groups that may be posing the greatest risk to public safety due to their involvement in gang or organized crime activity, UGET was able to contribute to overall law enforcement efforts and enhanced public safety.
While UGET is based in and spends time in Lower Mainland jurisdictions, UGET members are also regularly deployed to communities around the province, either proactively or reactively, to provide short term support to police agencies.
"The attendance of CFSEU UGET teams into the Okanagan is always appreciated by the local detachments," said Superintendent Shawna Baher, Officer in Charge of the Vernon North Okanagan RCMP. "CFSEU works very closely with the detachments and the CFSEU members are able to target specific offenders with drug, crime and/or gang ties and focus enforcement on them. We always see excellent pro-active work completed by the team when they attend any of the local communities."
"One of the core aspects of the overall CFSEU-BC enforcement strategy are the Uniform Gang Enforcement Teams (UGET)," said Sgt. Brenda Winpenny, CFSEU-BC Media Relations Officer. "UGET represents the overt, tactical and specialized uniform presence of CFSEU-BC which will directly interact with individuals involved in organized criminal activity to help our Agency deliver on our mandate. Providing UGET support to Kelowna and Vernon is a positive for the communities and law enforcement."