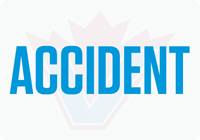 LANGLEY RCMP received reports just before 3 a.m. on Tuesday of an impaired driver operating a red motorcycle in the 20300-block of Fraser Highway.
As officers were arriving in the area, a witness directed them to Logan Avenue near 200 Street where the driver was found lying on the side of the road with the red motorcycle in the ditch.
Emergency Health Services responded transported the driver to hospital with serious injuries.
Logan Avenue between 200 and 204 Street remained closed for over six hours as Langley's Criminal Collision Investigation Team (CCIT) and the Integrated Collision Analysis and Reconstruction Service (ICARS) investigated.
The investigation is in its early stages and remains ongoing. Although all of the contributing factors have yet to be determined, alcohol is believed to be one of them, police said.
If anyone witnessed the collision or the actions of the driver prior to it, they are requested to contact the Langley RCMP at 604-532-3200.