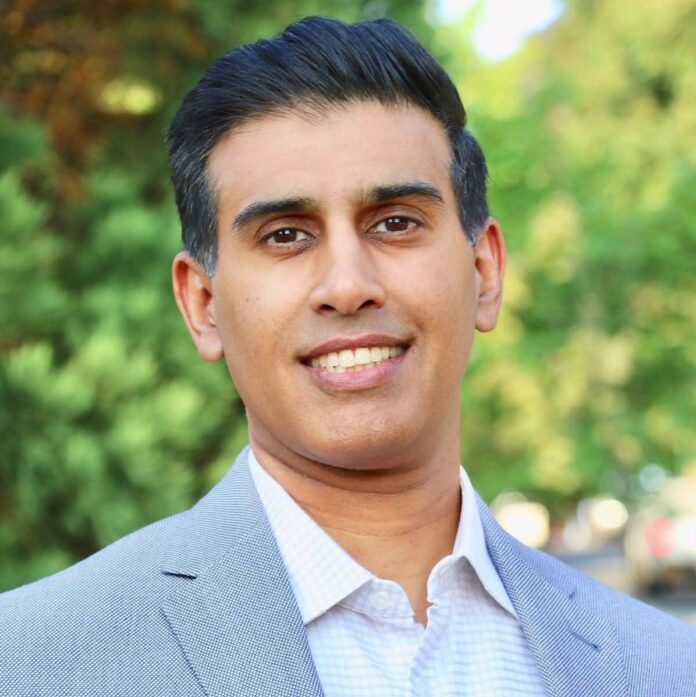 LOCAL entrepreneur and community leader David Grewal will be the BC Liberal candidate for Vancouver-Fraserview.
Joined by BC Liberal Leader Andrew Wilkinson, Grewal will be officially acclaimed at a virtual nomination meeting on July 14.
The BC Liberals, who held the seat of Vancouver-Fraserview from 2001 until 2017, say Grewal will immediately start working to close the 989-vote gap from the 2017 election.
"I'm proud to see the calibre of British Columbians putting their names forward to run with the renewed and energized BC Liberal team," said Wilkinson on Tuesday. "With his deep roots in the Vancouver community, David is an excellent candidate for Vancouver-Fraserview as we build momentum towards an election that could be triggered by the NDP at any time. Our team is ready to fight for economic prosperity and opportunity for all of BC."
"I'm honoured to represent the BC Liberals in Vancouver-Fraserview, a community where my family and I have deep roots," said Grewal. "When my grandfather moved to this community in 1934, he and his generation paved the way for the opportunities that my family, community, and I have been able to build our lives on. I want BC to be a place where hard working families, individuals, and business owners truly feel they can get ahead and build the lives they want."
David Grewal will be the fifth candidate to be nominated by the BC Liberals for the upcoming election, following the nomination of Oak Bay-Gordon Head candidate Roxanne Helme in June. The party continues to open nominations and plans to nominate more candidates throughout the summer, heading into a potential election as early as this fall.
Born and raised in Vancouver, Grewal has been a long-time community leader, an entrepreneur, and a mentor in the Vancouver region.
In 2003, he co-founded Absolute Energy Inc., which is today the largest natural gas supply management and brokerage firm in B.C. with clients throughout North America
David is passionate about community involvement and has been active in various charitable causes and neighbourhood organizations. He has served as chair of his local community association, and a business improvement association board member.
As a mentor and believer in the power of youth involvement, David has spoken to young people about entrepreneurship and the importance of being actively engaged in their communities.
With an unwavering dedication to his community, diverse experiences and background, David is ready to ensure his constituents' voices are heard in Victoria and be a strong leader for Vancouver-Fraserview, say the B.C. Liberals.