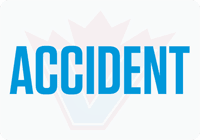 ABBOTSFORD Emergency Services responded to a collision involving a motorcycle and a pick-up truck at the intersection of Sumas Way and Marshall Road on Friday at 4:35 p.m.
Both the motorcycle and the pick-up truck were travelling southbound on Sumas Way and turning eastbound onto Marshall Road when the collision occurred in the intersection.
The rider, a 37-year-old man, was severely injured and transported to hospital where he succumbed to his injuries overnight. The 42-year-old driver of the pick-up truck did not suffer any injuries and remained on scene after the collision.
Abbotsford Police Department Major Crime Detectives and Collision Reconstruction Officers continue to investigate this crash. All contributing factors related to this collision are being considered at this time.
Anyone who witnessed this tragic collision is asked to contact the Abbotsford Police Department at 604-859-5225 or text them at 222973 (abbypd).