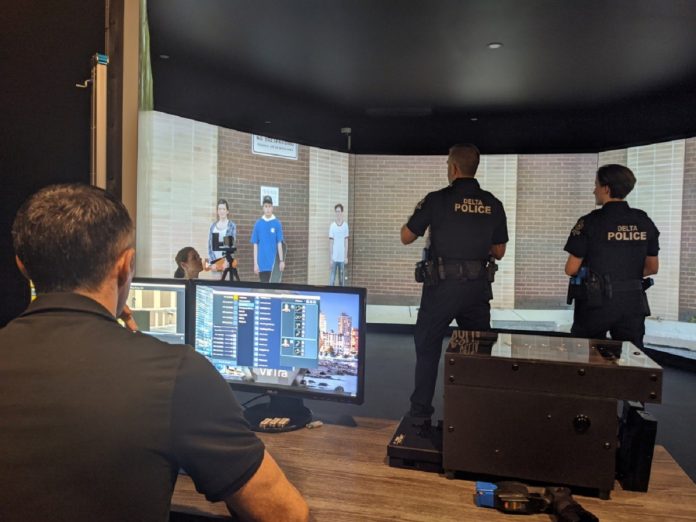 METRO Vancouver police from five departments will start training this month in a state-of-the-art simulator, part of a new Regional Municipal Training Centre, located in Delta.
An innovative cost-sharing arrangement has been put in place to allow officers from Delta, New Westminster, Port Moody, Metro Vancouver Transit and West Vancouver police departments to take part in enhanced training in de-escalation and use-of-force scenarios.
"I think I can speak on behalf of my colleagues when I say that as municipalities with independent police departments, we're always looking to help our police forces have up-to-date training," said Delta Mayor George Harvie on Monday. "And by working together, we have made this state-of-the-art training available to all of our police officers, in a way that's more affordable."
The City of Delta has made a city-owned facility available to house the new Regional Municipal Training Centre. The simulator itself cost $286,000.
The training centre consists of a simulator, classroom, and a full mat room for practicing control techniques. The simulator is housed within a purpose-built structure to create an immersive environment, and consists of five large screens surrounding the student, and real-time audio, linked to a computer operated by a trainer.
"There may be an impression out there, that this type of training is about police learning to shoot accurately, in a high pressure situation," said Deputy Chief Norm Lipinski. "While that's important, it's not actually our priority."
"Really, what's vital for us, is that the simulator gives officers the chance to practice decision making. It's decision making practice, not target practice."
Within Metro Vancouver, police deal with people every day who are experiencing a mental health crisis, or who are in the throes of drug addiction. The vast majority of the time, incidents are handled without any issues. But sometimes, things become more complicated. And when they do, police officers need to rely on their training, as well as their past experiences.
The simulator offers hundreds of fully interactive scenarios, to allow officers to practice their skills in an immersive environment.
"It's designed to create psychological stressors like an elevated heart rate and the high levels of adrenaline that officers experience during dangerous situations," said Lipinski. "Each training scenario has several branching paths to a resolution. There are multiple possible outcomes, determined by the officer's behaviour."
Just like real life, in the simulator, police officers will assess the verbal and non-verbal cues of people they are interacting with. After the scenario, the trainer and the participant can discuss the actions taken, and the officer can immediately go back and work through the scenario again. This process of review ensures the officer has the memory and confidence of accomplishing a successful outcome.
"This really is the best form of this type of training available to police today – without going to highly resource intensive scenarios requiring well trained actors, different locations, etc," said Lipinski. "Those are very expensive, and time consuming to arrange, and take our officers off the street from serving the community."
Representatives from all five agencies and the four cities were present March 2 at the grand opening. Training gets underway fully later this week at the new Regional Municipal Training Centre.