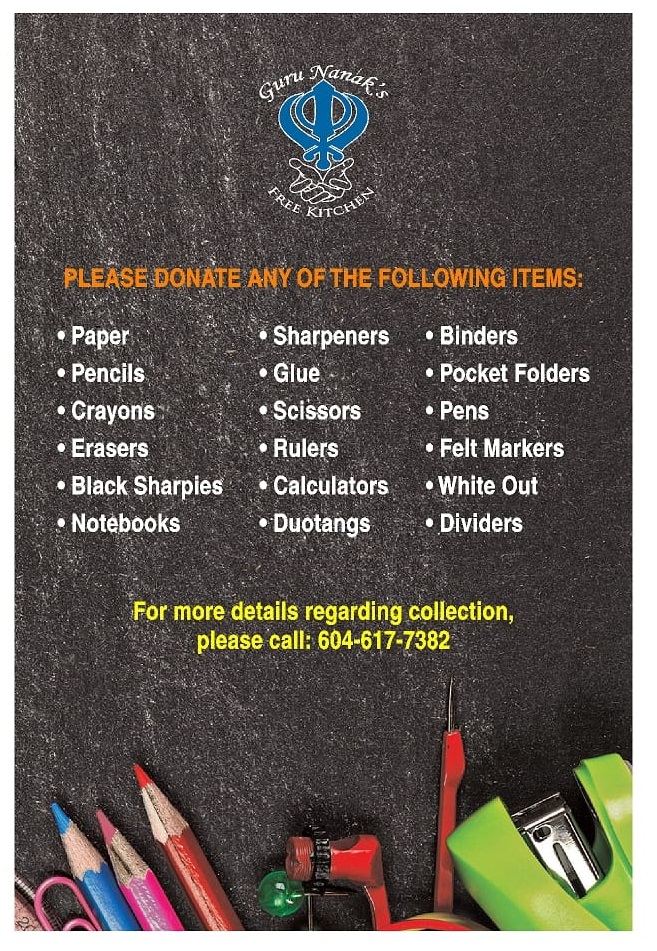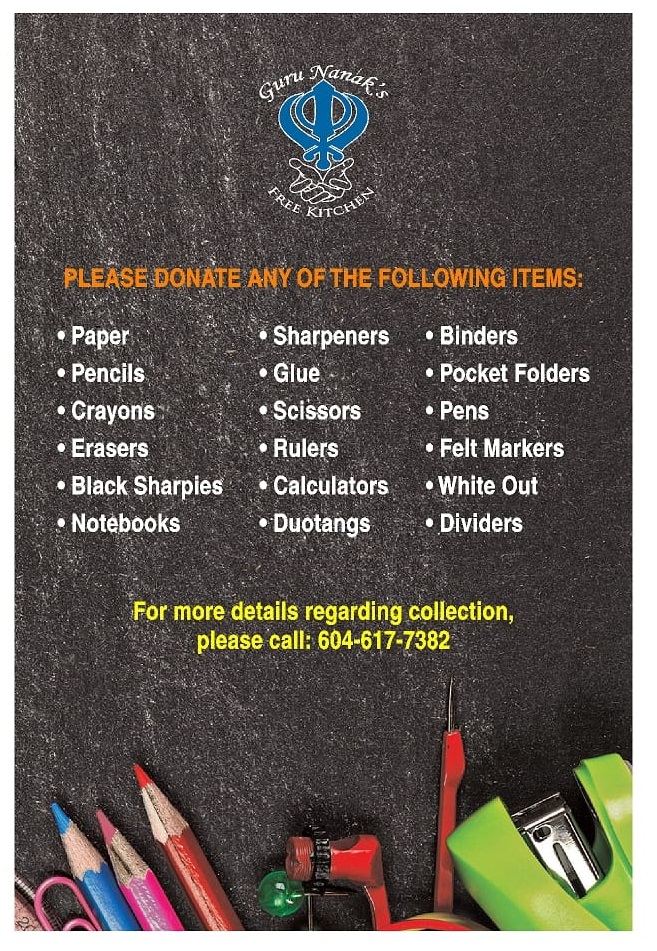 IT'S that time of year again when students and their families are doing their 'back to school' shopping. Unfortunately, this can be a costly time of year, as many families struggle to make ends meet. So Guru Nanak's Free Kitchen would like to support families in need by collecting and donating supplies to the Surrey School District. 
Collection bins have been placed at various organizations, which are supporting this great cause:  Khalsa Credit Union (five locations in Vancouver, Surrey and Abbotsford), two FIDO locations, Papa Plumbing, Ideal Signs, Gurdwara Sahib Sukh Sagar, and Singh Sabha Gurdwara.   The community is encouraged to drop off supplies at these locations until September 5. 
"Sikhs believe in giving of our own time and money to support those who are less fortunate," says Perminder Hundle with Guru Nanak's Free Kitchen.  "This can be a financially difficult time of year for many families, and it's important that all students have the tools to make their school year a success."
Volunteers have contacted Ryan Sidhu at the Surrey School Board to generate the school supply lists.  All the supplies will be transported to the Taj Park Convention Centre, 8580 132nd Street, Surrey, where volunteers will fill 100 backpacks with school supplies on Sunday, September 8. Members of the Surrey School Board will be present at this event.
Guru Nanak's Free Kitchen operates monthly, weekly and special programs during the year, serving 3,500 meals every month, along with donating clothing and other items to residents in need who live in the Lower Mainland of British Columbia.
The practice of langar – the communal kitchen and seva – the selfless service of humanity; philosophies taught by the first Guru, Sri Guru Nanak Dev Ji, many hundreds of years ago. For the Sikh community, this project is not missionary in nature, instead it is an opportunity for them to extend this true Sikh spirit of helping those in need regardless of caste, colour, creed and economic status.