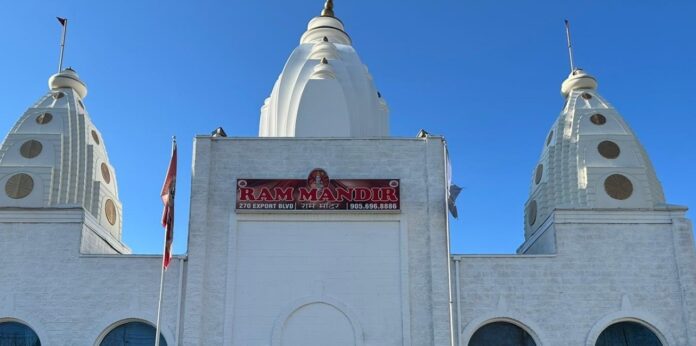 Toronto: Strongly condemning the defacing of a Hindu temple in Mississauga, Ontario, India on Wednesday asked authorities in the country 'to investigate the incident and take prompt action against the perpetrators.'
The Mississauga Ram Mandir in a Facebook post on Tuesday wrote: "Please see below pictures of vandalism that occurred overnight (February 13th 2023) at the Shri Ram Mandir in Mississauga, Ontario, Canada.
"We at the Ram Mandir are very disturbed by this occurrence and we are working with the appropriate law enforcement authority on this matter."
The graffiti included anti-Indian Prime Minister Narendra Modi and anti-India slogans.
The Consulate General of India in Toronto tweeted: "We strongly condemn the defacing of Ram Mandir in Mississauga with anti-India graffiti. We have requested Canadian authorities to investigate the incident and take prompt action on perpetrators."
Mississauga Mayor Bonnie Crombie tweeted: "I'm angered by the hateful and divisive graffiti defacing [Mississauga Ram Mandir] today. These blatant attacks are not reflective of our City and region's diversity and will not be tolerated. [Peel Police] are investigating and working with the community to ensure their safety."
Brampton Mayor Patrick Brown condemned the vandalism, stating: "I am saddened to hear of the hate motivated vandalism at the Ram Mandir Temple in Mississauga. Unknown suspects spray painted the walls on the back of the temple. This type of hate has no place in Peel Region."
He added that the Peel Regional Police and Police Chief Nishan Duraiappah "are taking this potential hate crime very seriously. 12 Division has carriage of the investigation & they will find those responsible. Religious freedom is a Charter right in Canada & we will do every thing we can to make sure everyone is safe in their place of worship."
Peel Region lies immediately west of Toronto and comprises the City of Mississauga, the City of Brampton and the Town of Caledon.