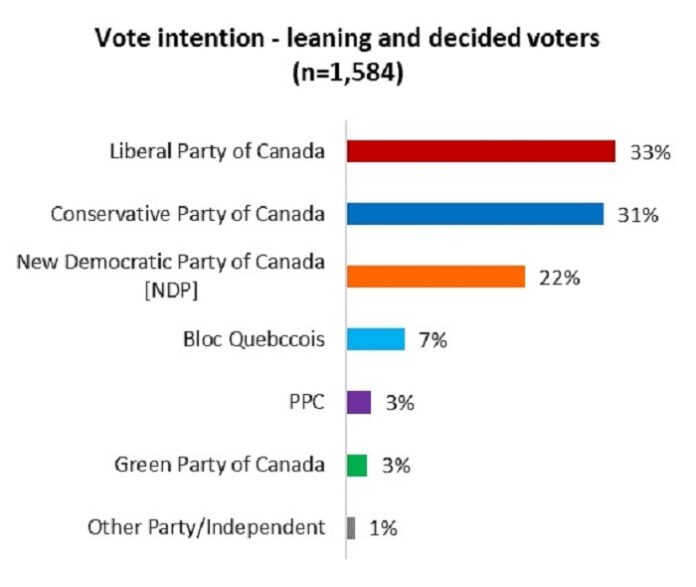 NEW data from the non-profit Angus Reid Institute finds the Liberals in a statistical tie with the opposition Conservatives (33% versus 31% respectively).
While CPC Leader Erin O'Toole has been in the job for a full year, this first week of the campaign has been one of the first focused opportunities many voters have had to assess him, especially as the party released its platform – as yet un-costed – on August 16.
The result: a 13-point increase in the number of people who say their opinion of him has improved in recent days compared to last week. The data also show, however, that O'Toole has a long way to go to win over the electorate. Despite recent improvement, more Canadians still view him unfavourably (59%) than favourably (32%).
By contrast, NDP Leader Jagmeet Singh has not only picked up momentum among voters in the last week with 22 per cent saying their opinion of him has improved, but he is also viewed favourably by more than half the electorate (54%).
The news is less encouraging for the man who triggered this election. Opinions of Liberal Leader Justin Trudeau have deteriorated over the last week far more than they have improved (7% vs 46%), with more Canadians viewing him unfavourably (59%) than favourably (32%).
Still, the gap has narrowed between the two parties most likely to win the most seats in the House of Commons, with a three-point decline for the Liberals in the last week and a meagre one-point increase for the CPC. The NDP also picks up two points.
More Key Findings:
One-in-five women and three-in-10 men over the age of 55 say their opinion of Erin O'Toole has recently improved.
Jagmeet Singh is viewed favourably by a majority of all age and gender groups other than men over the age of 54. Neither Trudeau nor O'Toole reach 50 per cent among any group.
A comfortable Liberal lead in Quebec has diminished after the first week of the campaign. The Liberals led the Bloc Quebecois – its key competitor in the province – by 16 points last week. This week the lead is just seven points.
The Angus Reid Institute conducted an online survey from August 20-23 among a representative randomized sample of 1,692 Canadian adults who are members of Angus Reid Forum. For comparison purposes only, a probability sample of this size would carry a margin of error of +/- 2.5 percentage points, 19 times out of 20. The survey was self-commissioned and paid for by ARI.