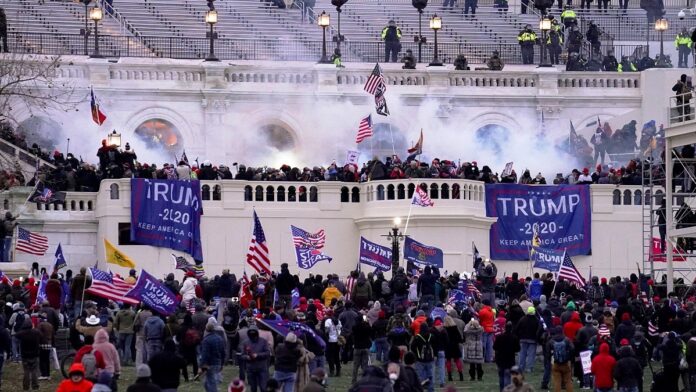 IN the year since supporters of outgoing U.S. President Donald Trump stormed the Capitol building in Washington, D.C last year on January 6, many, including the FBI director, have classified the events as an act of domestic terror.
Now, a new two-country study from the non-profit Angus Reid Institute finds a majority of Canadians and Americans alike agree with that designation – though political divisions on both sides of the border are evident.
While one-quarter (24%) of those who voted for Trump in 2020 agree that the storming of the Capitol was domestic terrorism, still seven-in-ten (68%) disagree. This represents a significant difference from the near unanimity voiced by President Joe Biden's voters (92%) in believing that term is appropriate.
In Canada, 35 per cent of past Conservative voters disagree with calling the events an act of domestic terrorism, while a handful of NDP (5%) and Liberal (5%) voters take this view.
Investigations into the attack continue. More than 700 people have been charged with crimes for their actions, and Trump allies continue to combat subpoenas for information from the committee in charge. Canadians and Americans likely see this as another example of flailing democracy in the U.S. Indeed, when asked about American democracy, three-in-five in each country say that the country used to be a good example for other countries to follow but is no longer. Still, one-in-five Americans (22%) and one-in-ten Canadians (10%) feel American democracy sets an exemplary standard.
More Key Findings:
One-quarter of Americans (26%) believe the rioters' cause was a genuine attempt to defend democracy, while one-quarter (25%) believe the event was fiction and created by the media. Fewer (15%) believe it was an attack on American democracy orchestrated by foreign powers.
Three-quarters (74%) of Americans believe it's important to prosecute those who broke into the U.S. Capitol on Jan. 6. Nearly all (94%) of those who voted for Biden in 2020 agree. Fewer, but still half (53%), of those who voted for Trump believe authorities should punish those who rioted.
With Trump potentially building toward another run at the presidency in 2024, the claim that the 2020 election was stolen persists among his past supporters. That said, one-in-five (20%) Trump voters disagree with his claims and feel that Biden was the rightful winner.