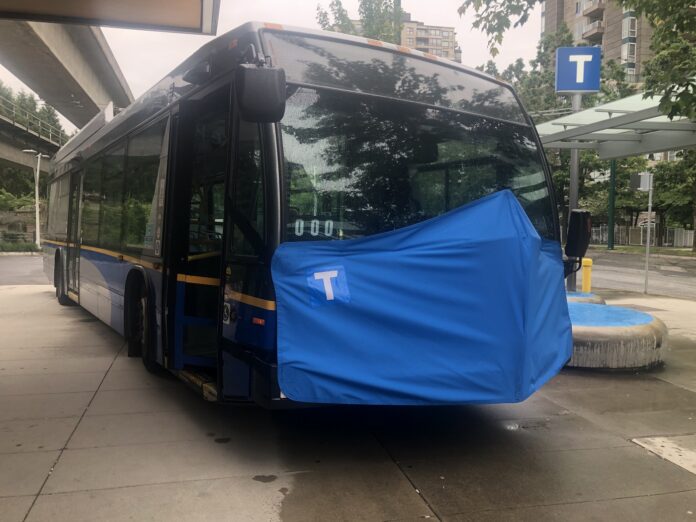 TRANSLINK is reminding customers that its mandatory mask policy comes into effect on Monday, August 24, when customers will be required to wear non-medical masks or face coverings while on board transit vehicles.
"I commend our employees for working hard to ensure customers are well aware they are expected to wear masks on transit," said TransLink CEO Kevin Desmond. "I also want to thank our customers for their support and understanding of this policy change. Wearing a mask is a small gesture we can do to help make transit safer for everyone on board."
TransLink is using all available methods and channels to communicate this change to customers, including a robust marketing campaign, a social media push, announcements on board transit vehicles and the installation of over 8,000 pieces of signage in several languages across all stations and vehicles.
Groups exempt from this policy include:
* Anyone with an underlying medical condition or disability which inhibits the ability to wear a mask or face covering;
* Persons unable to place or remove a mask or face covering without assistance;
* Children under 5 years of age;
* Employees working behind a physical barrier or within areas designated for employees and not for public access;
* Police, employees, or first responders in an emergency.
Although Transit Police will be able to enforce this rule requiring face coverings on transit, the initial focus of the policy will be on awareness and education. Widespread mask use is essential for ensuring customers have confidence riding transit as British Columbia's economy continues to reopen and more people commute around the region. TransLink's policy is in line with other transportation providers in the province including BC Transit and BC Ferries.
Mandatory masks by the numbers
* Signs – over 8,000 signs in total
* 2,300 signs installed on the bus system
* 2,350 signs installed on SkyTrain and Canada Line
* 2,315 interior ads on vehicles
* 700 signs installed on HandyDART vehicles
* 418 signs installed on Compass faregates
* Coast Mountain Bus Company's sign printer ran for over 75 consecutive hours to create required signage.
* TransLink emailed nearly 690,000 Compass Card holders to inform them of the new policy.
* TransLink has handed out 10,000 reusable masks on the system, with plans to distribute over 20,000 more in the coming weeks.