THE next Premier of B.C. should be Attorney General David Eby.
Eby, who will be 45 on July 21, will represent the next generation of leadership in the BC NDP. Eby, a lawyer, is the MLA for Vancouver-Point Grey and was first elected in 2013.
He was re-elected in 2020 to serve a third term in the B.C. Legislature. In July 2017, he was appointed Attorney General by Premier John Horgan and is also the Minister Responsible for Housing.
Eby will be just the right person to take on BC Liberal Leader Kevin Falcon and he will inspire the younger generation.
According to Wikipedia: "[Eby] also served as campaign co-chair of John Horgan's successful bid for the leadership of the NDP. In 2016, former NDP premier Glen Clark described Eby as "the future of the NDP"."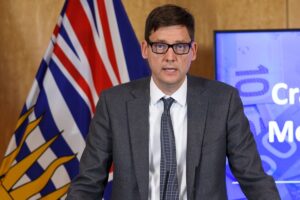 As his bio notes, in his time as Attorney General, Eby has led multiple priority government initiatives, including:
the establishment of a provincial public inquiry into money laundering (the Cullen Commission), following his work exposing large-scale transnational money laundering centred in the Lower Mainland;
a provincial ban on union and corporate political donations;
award-winning reforms to protect British Columbians' free expression from silencing strategic lawsuits against public participation (SLAPP);
laws enabling a national class action against opioid producers and manufacturers for their alleged role in the overdose crisis;
B.C.'s first government whistleblower protection system;
overhauling B.C.'s public auto insurance system to eliminate billion-dollar losses at the provincial insurer, while increasing benefits and reducing rates; and
the modernization of B.C.'s national class action, international arbitration and domestic arbitration systems.
Before he was elected, Eby was the executive director of the BC Civil Liberties Association and an adjunct professor of law at the University of British Columbia. He is an award-winning human rights lawyer.
Go for it, David!
Slay all the Goliaths!
VOICE opinion column