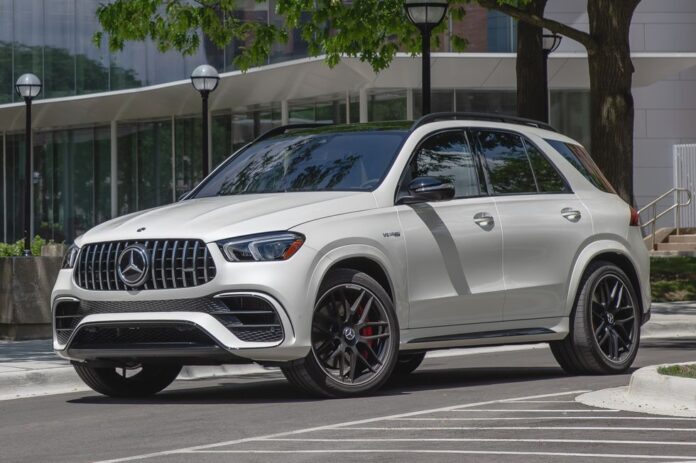 Review by Veeno  Dewan
Coming from the U.K, I was raised on hot hatch back cars, whether three or five doors, they were always such fun and affordable as new cars and even cheaper with a few years on the odometer. I had a Lotus engineered Sunbeam, Renault 5 GTM,  Volkswagen Golf GTI, as well as a Ford Cosworth engined XR3!  Back in the day there was no such thing as a premium hot hatch, so it was a great surprise to come across the 2021 Mercedes- Benz AMG A35 hatchback. A  Canada-only model, with the  AMG treatment.
Our gloss back tester looked sleep and slippery sitting on   18-inch black wheel rims with a rear spoiler. At the back, the large chrome exhaust tips signals its bad intentions.  The A35 comes with the AMG sport tuned suspension, and the optional AMG ride control with 3-stage dampers. Also added are uprated steering and braking systems.   At the heart of the matter is a turbocharged 2.0-litre 4-cylinder engine with 302 Horsepower producing 295 lb.-ft. of torque mated to an AMG Speedshift DCT 7-speed dual-clutch transmission linked to 4MATIC AWD. In this configuration, the AMG A35 can scoot from 0- to 100 km/h in only 4.7 seconds.
The cabin is nearly identical to the Mercedes-Benz A-Class with sleek thin 10.25-inch screens that display driver information and infotainment, the ultra-cool radial turbine vents, and design elements in chrome, satin metal, and seats in Artico leather. The panoramic roof provides a welcome feeling of space inside the vehicle. Behind the chunky AMG steering wheel, the all-digital info screens stretches across most of the dashboard all the way to the centre console. To liven things up even further, there are is ambient lighting with 64 mood lighting colours available to choose from. The panoramic sunroof, power front seats, dual-zone climate control, blind-spot warnings, ambient lighting, and keyless start are all standard. Interior –wise, there is a neat, simple cabin that's filled with high quality materials. Equipment levels are high with a plethora of convenience and full gadgets. Of note is the is the  excellent new MBUX feature with  the   "Hey, Mercedes" voice activated functionality added to the infotainment system  that allows you to do such things as turn on the heated steering wheel, play a certain song, or navigate you to the nearest restaurant should you get the munchies.
There are: steering wheel mounted controls and paddle shifters, leather seating surfaces, raised contrast stitching, soft touch plastics, black detailed trim panels, and a premium audio system with 10 speakers including a subwoofer.
The A35 also features a small charge pad for your phone just below the centre console ahead of the gear selector. Bluetooth streaming audio, Android Auto and Apple CarPlay are all compatible. The rear cabin is roomy with decent enough seat comfort and good rear seat leg room.
On the road, the well-engineered chassis and powerful brakes also contribute to the overall performance of the vehicle. The tuned four-cylinder motor with its AMG massaging offers 302 hp and 295 lb-ft from a compact 2.0 litre turbo engine with reduced friction, and high-pressure Direct Injection enabling 100 km/h in just 4.7 seconds is part of the magic. There is so much eager acceleration and lots of usable torque. It is a pleasant, carefree car to drive with nimble handling and quick reflexes thanks to solid engineering. The Sport-tuned steering is precise and responsive with a good lock and return to center action. The engine and transmission are thoroughly engineered with AMG technology. The 7- speed automatic Speedshift transmission  modes offer partial ignition cutoffs during upshifts and rev-matched downshifts for more exciting driving.
The different driver settable drive modes offer a range of settings from five different drive modes. The default mode, "Comfort", allows the driver to enjoy a stable, smooth ride, with no drama acceleration, although the growl from the turbocharger is always a welcome sound effect! Sport" and "Sport+" sharoens up the engine responses and transmission shift point parameters for quicker acceleration, and  gear changes awhile disabling the ECO start/stop function to inactive.   "Individual" mode allows manual setting programs and a "Slippery" driving program smooths out the A 35's handling on slippery roads,
The 4Matic all-wheel-drive system provided tremendous levels of grip.   That AWD system works by default in FWD mode but can transfer 50 percent of the engine torque to the rear wheels when needed.  Nothing much to complain about. Overall, there is  great performance, features, quality, and value for the price.  So much fun to drive and  own. Highly recommended.
The 2021 AMG A35 4MATIC Priced from $49,800   Plus options $3200.final price:  $53,000
More info at www.mercedes-benz.ca