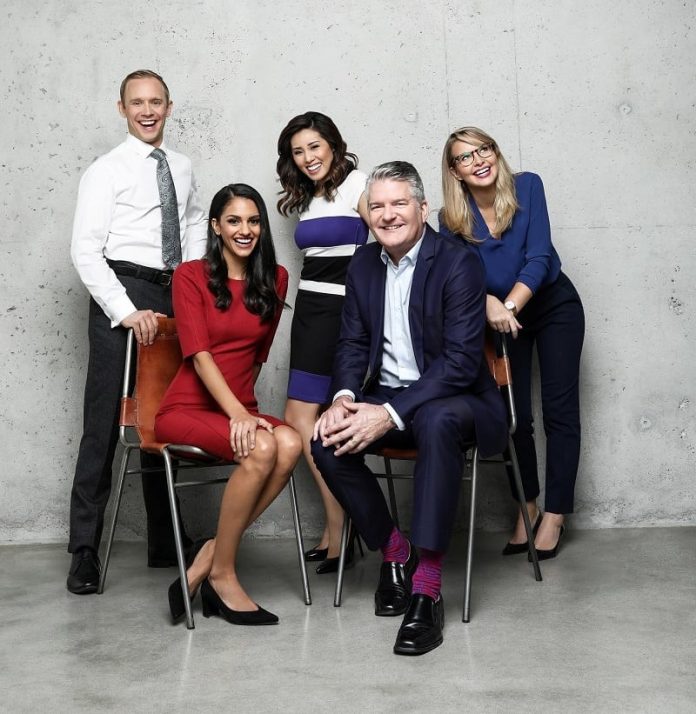 CBC Vancouver on Monday announced the launch of a new host team for its TV newscast programming, CBC Vancouver News. Starting Monday, November 19, a collective of fresh and seasoned journalists will bring community issues and news that matters most to British Columbians to the forefront, seven days a week: Mike Killeen and Anita Bathe at 6 p.m., together with senior meteorologist Johanna Wagstaffe; Dan Burritt at 11 p.m.; and Lien Yeung on the weekends.
"CBC is the national public broadcaster, and we have a mandate to provide British Columbians with the most trusted and balanced news possible across a variety of platforms and TV news, especially local news, is still a vital piece," says Johnny Michel, senior managing director, British Columbia and Alberta. "And with the changing landscape of media and how our audience consumes their news, not only will our host team be visible on TV, but they will also report across a multitude of media channels, from radio to online. These are talented and award-winning journalists who are genuinely passionate about the news and they represent the new CBC Vancouver News."
Killeen, a veteran broadcaster whose journalism career spans more than three decades and two continents, has anchored live coverage of some of British Columbia's most significant issues and events, such as the 2017 provincial election, from the scene of Abbotsford Police Constable John Davidson's shooting death, and the 2010 Vancouver Olympics. A multiple Jack Webster and RTDNA (The Radio Television Digital News Association) awards recipient, he brings to CBC Vancouver News familiarity and breadth of experience locally, nationally, and internationally.
Currently a member of CBC Vancouver's investigative unit, Bathe has taken a lead role in covering recent issues and stories that impact the community, such as the B.C. wildfires in 2017 and 2018 and Abbotsford Police Constable John Davidson's shooting death. Her journalism career started more than 10 years ago in radio and includes several RTDNA, Jack Webster, and BCAB (British Columbia Association of Broadcasters) awards for her reporting on issues that impact the province. She joined CBC Vancouver in 2016.
Burritt is a host and producer for CBC Vancouver News and has reported on a wide range of breaking stories, including the ongoing weather and climate events in B.C., the 2018 municipal elections and the Haida Gwaii earthquake in 2012. He has worked the political beat in both radio and TV, providing extensive provincial and federal elections coverage to citizens. He joined CBC Vancouver in 2012.
As CBC Vancouver's senior meteorologist and seismologist, Wagstaffe covers local, national and international weather and science stories for CBC Vancouver News on weekdays. She joined CBC in 2007 and was recently awarded a Canadian Association of Journalists award for Fault Lines, a podcast examining two hypothetical scenarios involving earthquakes along Canada's West Coast and how individuals and families can prepare.
Yeung is an award-winning multimedia reporter, host and producer. She has covered a range of stories for CBC Vancouver, from the 2017 B.C. wildfires, for which she earned a RTDNA and a Jack Webster award nomination, the Amtrak derailment, to the culinary arts. Her journalism career has taken her from Canada's Pacific Northwest to the Atlantic Coast. She joined the CBC News team in 2013.
"This CBC Vancouver News team builds on the solid foundation CBC British Columbia already has for providing balanced reporting across the province," says Treena Wood, news director of CBC British Columbia. "We want citizens to feel connected to their community and be informed on what is happening in their neighbourhood; whether it be the ongoing pipeline issues, breaking news, or the municipal election results. Each and every one of our hosts will fulfill this role, giving the public reasons to turn to CBC for their news."
The new CBC Vancouver News team premiers Monday, November 19 at 6 p.m. PST with co-anchors Killeen and Bathe. The newcast is streamed and archived online. For more information, visit www.cbc.ca/bc.