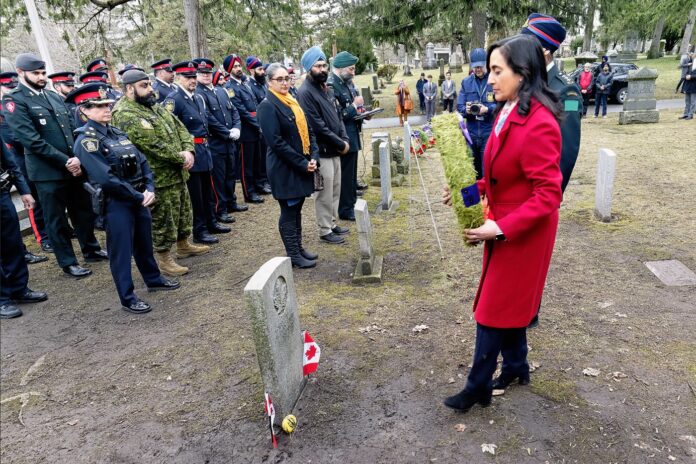 WITH the start of Sikh Heritage Month in April, National Defence Minister Anita Anand visited the military gravesite of Canadian World War I hero, Private Buckam Singh, in Kitchener, Ontario.
Anand was met at the gravesite by a delegation of members of the Sikh community, Canadian Armed Forces soldiers, members of various police forces, elected officials, Sikh veterans and senior leadership from the Kitchener Waterloo area Royal Canadian Legion branches.
"Sikhs have a long tradition of military service," said Sandeep Singh Brar, Curator of SikhMuseum.com and the chief organizer of the event. "The Sikh community has organized a Remembrance Ceremony at the historic location of Private Buckam Singh's military grave every year to remember the 117,000 Canadian soldiers like Singh that died since we became a nation and the 83,000 Sikh soldiers of the British Indian Army that died in two World Wars."
Brar added: "We are very honoured to have the Minister of National Defence pay a visit and lay a wreath at Private Buckam Singh's gravesite – this kind of national recognition from our top military representative in Canada means a lot, especially as we begin to mark Sikh Heritage Month across the country," said Brar.
For more information on the annual Sikh Remembrance Day Ceremony, visit: www.sikhmuseum.com/remember
For more information on Private Buckam Singh, visit: http://www.sikhmuseum.com/buckam