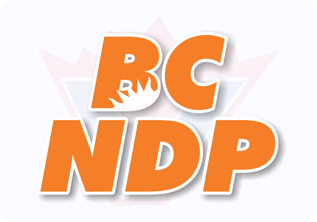 THE NDP said on Saturday said that as a senior civil servant in 2005, Andrew Wilkinson facilitated a deal between the City of Prince Rupert and a China-based company called Sun Wave Forest Products to reopen a shuttered pulp mill.

According to the NDP, when Sun Wave reneged on the deal and left Prince Rupert in the lurch years later, Wilkinson represented the company in a lawsuit against the city. The legal fight between Sun Wave and Prince Rupert cost the city millions in legal fees and hampered the local economy as the court battle dragged on for years:
* When Wilkinson was Deputy Minister of Economic Development in 2005 and 2006, he facilitated the sale of the closed Skeena Cellulose Pulp Mill in Prince Rupert to Sun Wave Forest Products. 
* That company received a 25-year property tax holiday from the city in return for a promise to re-open the mill by December 31, 2007. 
* When Sun Wave broke its promise and owed millions in back taxes, the City of Prince Rupert took back the site and sought to find a new owner and use for it.
* Despite his previous role in government on the file, Wilkinson represented Sun Wave when the company sued Prince Rupert between 2010 and 2012. 
* The protracted legal proceedings with Sun Wave cost the City of Prince Rupert $3.5 million and prevented the city from finding another use for the site during the dispute. 
Nathan Cullen, NDP candidate in Stikine, said: "When Sun Wave backed out of the bad deal Wilkinson put together, he cashed in and helped the company sue the taxpayers of Prince Rupert. He looked out for himself and BC Liberal donors, and the people of Prince Rupert paid the price."
 
Jennifer Rice, BC NDP candidate in North Coast said: "Andrew Wilkinson should have walked away from this given his role putting this deal together. He knew exactly how much our town was struggling. Instead, he helped a company devastate our community when we were vulnerable."

Joy Thorkelson, former Prince Rupert councillor, added "Sun Wave filed lawsuit after lawsuit against our town. It cost us millions and impacted services and taxes. They treated the mill workers and the people of our town like they were nothing. And Andrew Wilkinson helped them." 
Timeline:

2003: Andrew Wilkinson is appointed Deputy Minister of Economic Development (LinkedIn)

2005: Discussions begin with the City of Prince Rupert, Sun Wave and the government of BC on Sun Wave Forest Products on the acquisition of the closed Skeena Pulp Mill in Prince Rupert. (The Globe and Mail)

2005: In his capacity as Deputy Minister, Wilkinson writes a detailed five-page letter to Sun Wave Forest Products. That letter provides information to the company on a number of topics including property taxes, forestry matters and environmental issues related to Sun Wave's purchase. "The government of British Columbia welcomes your ideas for restarting the Prince Rupert pulp mill, and we will do our best to provide you with clear answers to your various questions." (The Globe and Mail)

2005-2007: Companies involved with the Sun Wave project donate nearly $15,000 to the BC Liberals (Elections BC: Sun Wave & CGR Investments)

2005: Wilkinson indicates that he is involved in forthcoming submission to Treasury Board and Cabinet on the issue. (The Globe and Mail)

2005-2006: Sun Wave Forest Products purchases the mill site and equipment (Urbas.ca)

2006: Prince Rupert agrees to give Sun Wave a 25-year municipal tax holiday in return for reopening the mill by December 31, 2007 (BiV)

2008: After the mill does not open as promised, Prince Rupert moves to acquire the site in return for back taxes. (Black Press)

2010-2012: Now working in the private sector as a corporate lawyer, Andrew Wilkinson represents Sun Wave in a lawsuit over equipment that delays the city's occupation of the site. (Statement of Claim)

2012: Wilkinson wins the BC Liberal candidate nomination in Vancouver-Quilchena. Bill Belsey, the former BC Liberal MLA for North Coast, takes over the case from Wilkinson. (Black Press)

2012: Jobs Minister Pat Bell provides internal government emails to Belsey about the issue. (Victoria Times-Colonist)

2013-14: Belsey investigated is found guilty of breaking two sections of the Lobbyists Registration Act for not registering as a lobbyist. He appeals the decision but it is upheld. (The Tyee)

2010-2017: The dispute drags on, costing Prince Rupert $3.5 million dollars in legal costs. (The Northern View)

2017: The City finds a tenant for the site, Pembina Pipeline Corporation. (The Northern View)