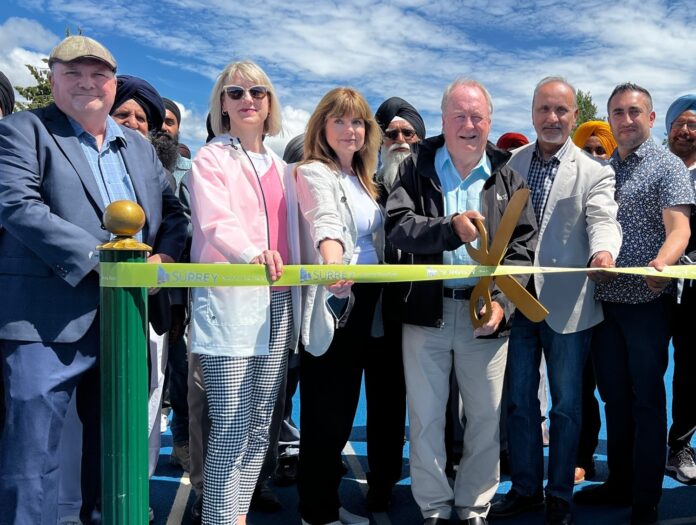 SURREY City Council on Thursday celebrated the opening of two new outdoor rubberized volleyball courts, an upgraded walking loop and a new picnic shelter area at Kabaddi Park with a ribbon-cutting ceremony on Thursday (July 7).
"We are very pleased to re-open the upgraded Kabaddi Park as one of more than 20 'Surrey Invests' capital projects," said Surrey Mayor Doug McCallum.
"City Council has made a commitment to ensure that our athletic facilities keep pace with the fast growth of Surrey. Walking loops are being upgraded and constructed throughout the City to create accessible recreation opportunities.
"These facilities at Kabaddi Park will be well-used by local residents and families for years to come, allowing our citizens to stay active and creating opportunities for social engagement."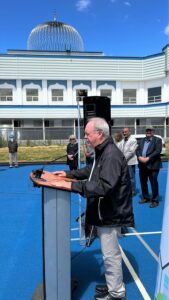 Upgrades to Kabaddi Park include the widening, realignment and installation of a rubberized surface along the walking path, installation of two new outdoor rubberized volleyball courts and the reconfiguration of the picnic shelter area.
With their bright blue rubber surface, Kabaddi Park's new outdoor volleyball courts are the first of its kind in Surrey parks and can be used year-round.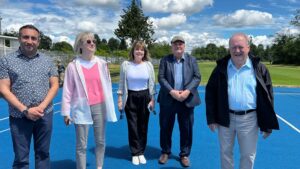 Kabaddi Park is a 2.4-hectare park in Newton on Scott Road and 72nd Ave. It is one of over 800 parks the City of Surrey manages. More than 200 parks have active amenities such as sports fields, sport courts, playgrounds, community gardens or picnic areas and over 600 parks protect natural areas, open space, and biodiversity as part of the larger green infrastructure network.
For more information go to surrey.ca/parks.