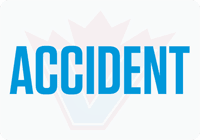 THE New Westminster Police Department is seeking witnesses for a hit-and-run involving a pedestrian. On December 29, at approximately 10:40 p.m., a 67-year-old female from New Westminster was struck by a vehicle while she crossed 6th Avenue at 7th Street. When police arrived, the vehicle that was suspected to have struck her was gone. A witness had remained on scene to help the pedestrian, and Emergency Health Services along with the New Westminster Fire and Rescue Services attended.
Another person had stopped his vehicle to assist the pedestrian, but when the Fire Department arrived, he got back into his white Cadillac CTS and left the scene.
Investigators have spoken with the witness who remained on scene, and have also been reviewing video surveillance from the area.
"The pedestrian suffered non-life threatening injuries, but required medical treatment at the hospital," said Sgt. Jeff Scott. "We would like to speak with the driver from the white Cadillac, and any other witnesses who may have seen the collision or have information about the suspect vehicle. We also ask that the driver of the vehicle involved in the collision calls us to speak with investigators."
Anyone with information is asked to call the New Westminster Police at 604-525-5411, quoting file number 2018-24616.