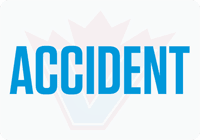 A motorcycle collision in Vancouver on Tuesday morning claimed the life of one male and left a female in hospital with serious injuries. Vancouver Police are continuing to investigate.
The collision occurred at 5:25 a.m. at the intersection of East Hastings and Columbia streets. A motorcycle, travelling east on East Hastings Street, struck a bus northbound on Columbia Street.
The driver of the motorcycle, a 39-year-old man, and his passenger, a 28-year-old female, were both transported to hospital with life-threatening injuries. Unfortunately, the driver died in hospital and the female passenger is battling serious injuries.
There were no physical injuries to the driver of the bus or passengers on the bus. The driver is cooperating with the investigation.
Anyone with dashcam footage who was driving in the area at the time of the collision, or anyone who may have witnessed the collision, is asked to contact investigators at 604-717-3012.
This is Vancouver's fifth traffic fatality of 2020.