B.C. Premier John Horgan has maintained high levels of approval for the bulk of his time as premier and returns there in his final quarter, receiving commendation from 51 per cent of British Columbians, according to an Angus Reid Institute survey.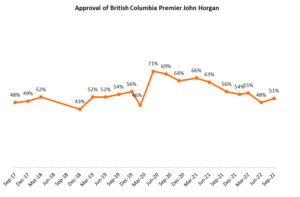 His approval dipped below the majority mark in June after a controversial and ultimately repealed plan was announced to spend nearly $800 million to tear down and rebuild the Royal B.C. Museum. Horgan spent his time as premier with approval north of 50 per cent more often than not, ARI noted.
He has the third highest approval among premiers across Canada.