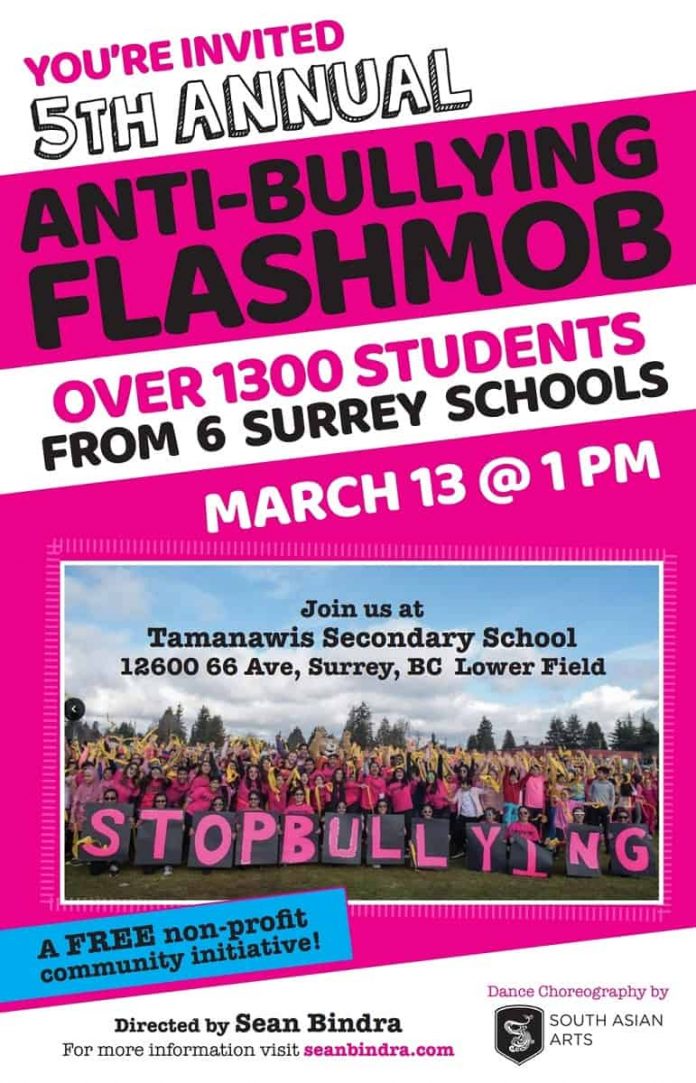 FOR the fifth year, get ready to celebrate our differences by witnessing a Bhangra / Western inspired flash mob dance performance. The purpose of this community initiative is to raise awareness against bullying through dance, says Delta resident Sean Bindra, who began this initiative in 2014 to create awareness in order to help put an end to bullying in all its forms: physical, verbal, cyber or social.
The "Anti-Bullying Flash Mob" is a non-profit community initiative that is organized each year by Bindra on a volunteer basis.  "This is the fifth time I am organizing the Anti-Bullying Flash Mob event with the support of various community members. Through our team effort, more than 5,000 youth from Surrey and Delta have now participated and danced in this community initiative in support of the anti-bullying message. The youth are our future so it is important to organize anti-bullying initiatives like this," says Bindra.
On March 13, more than 1,300 students from Kwantlen Polytechnic University and five schools in Surrey – Beaver Creek Elementary, Boundary Park Elementary, Cougar Creek Elementary, J.T. Brown Elementary and Martha Jane Norris Elementary – will participate in a flash mob style dance performance. This will be taking place on the lower field at Tamanawis Secondary (12600 66th Avenue, Surrey) from 1 p.m. onward. In addition, the 1,300+ students will be joined by police officers from the Surrey RCMP who will also be participating in the dance performance.
The dance choreography for this year's Anti-Bullying Flash Mob event is being provided by skilled instructors from the South Asian Arts Society. "Bullying has no place in our world, so we're all for supporting any initiative that brings the community together to stand in solidarity against bullying. Kudos to Sean for launching this initiative in 2014. SAA Society will continue to support the Anti-Bullying Flash Mob event in future years," says Gurpreet Sian, Executive Director of the South Asian Arts Society.
Bindra says: "We need to celebrate our differences and support one another. Our differences are what make us strong, and therefore we need to encourage each other to be ourselves. All of us have faced some sort of bullying in our lives and it leaves you feeling low on the inside. We are all unique and beautiful, and this is what we need to embrace. I encourage the community to please attend and support this anti-bullying initiative in large numbers. Let's show our youth that we fully support their commitment and dedication to help put an end to bullying."
The event is for the most part a self-funded community initiative. Not only does Bindra volunteer his time and service and helps fund this non-profit community initiative, but with the support of his parents he even prepares dance props for each participating student to hold in the dance performance. As the Anti-Bullying Flash Mob event grows and gains momentum, Bindra is hopeful that more community members and organizations will begin supporting this non-profit community initiative. "The ongoing growth, success, and longevity of the annual "Anti-Bullying Flash Mob" event is highly dependent on the support it receives from community members and organizations," he says.
He points out: "As a community, we are stronger together than we are apart."