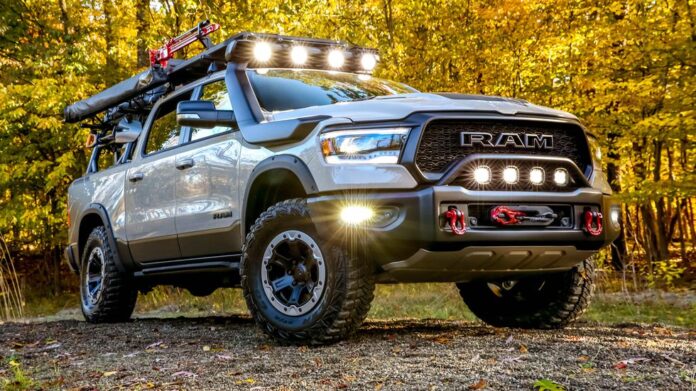 Windsor, Ontario: Ram 1500 has been named "Best Large Pick-up Truck in Canada for 2023," by the Automobile Journalists Association of Canada (AJAC), taking home top honours for the third time in four years (2023, 2021, 2020) and further solidifying it as the most awarded light-duty truck in North America.
"We're thrilled that Ram 1500 has once again been named the Best Large Pick-up Truck in the country as voted on by the expert members of AJAC, reinforcing it as the top choice for Canadian consumers, said Dave Buckingham, President and CEO – Canada, Stellantis North America. "This award validates how Ram continues to redefine what pickup trucks can be as the leader in durability, technology, efficiency, performance and convenience and continues to push past the competition by delivering the best pickups on the market."
"The full-size pick-up category is immensely popular among Canadians and, therefore, very competitive between manufacturers who built them," said Michel Crépault, AJAC President. "The fact that members of AJAC chose the RAM 1500 as Best Large Pick-up truck in Canada for 2023 says a lot."
AJAC is a long-running and respected national association of automotive journalists who test drive and report on new vehicles in various media outlets across the country. The annual Car and Utility Vehicle of the Year Awards program is an integral part of the association, providing consumers with expert advice and data to inform their vehicle buying decision.
The 2023 Ram 1500 is the no-compromise benchmark for durability, technology, efficiency, performance and convenience with features never before offered in a pickup. The Ram 1500 features up to 5,783 kilograms (12,750 pounds) of towing capability and 1,043 kilograms (2,300 pounds) of payload. The eTorque 48-volt mild hybrid system delivers improved fuel efficiency in both V-6 (standard) and V-8 configurations. The Ram 1500 is North America's most powerful half-ton diesel pickup with 480 lb.-ft. of torque delivering up to 8.0L/100km highway and over 1,500 kilometres of range on a single tank of fuel.